Deep Dive #10: Virtual and Augmented Reality in Berlin
They enhance vision, allow us to immerse ourselves in underwater worlds without getting wet, and bring distant objects within reach - technologies and applications of virtual and augmented reality are finding their way into business and society.
"People will be able to enrich their perception with superpowers" - no, this line is not from the script of a Hollywood blockbuster. This is the prediction of Andrew Bosworth, an expert for virtual and augmented reality at Facebook. "If you're in a noisy restaurant, you can use a microphone to focus on the one person in front of you and block out everything else", he promises, "or you can amplify your vision and see from a distance whether that's your bus you have to run for now." In brief: "We believe that VR and AR will bring about a similar fundamental change to society as the computer." This is when the watch or smartphone only exist in extended reality. And if we succeed in solving the "fundamental problems for people" in the digital image of the world. "All this will happen", Bosworth is convinced. "The question is when."
Rapid market development
Sooner than intended, the answer might be. Not only since Facebook itself entered the market with the purchase of the technology company Oculus VR has the industry developed extremely rapidly. In 2018, the turnover with VR applications and technologies was already impressive. According to statista this was 4.5 billion US dollars worldwide; in Ger¬many the industry generated around 510 million US dollars. The future looks even more promising. Just recently, market researchers from IDCupdated their sales forecast for the global market of virtual reality, augmented reality or mixed reality, a mixture of virtual and pure reality, to a steep upward trend: according to the recently updatedSurvey "Virtual Reality/Augmented Reality" by Projekt Zukunft of the Senate Department for Economics, Energy and Public Enterprises, around nine million pairs of data glasses will be sold in 2019. By 2023 the number is expected to rise to almost 70 million. This corresponds to an average growth rate of almost 67 per cent. The increase should also be clearly noticeable in the German VR and AR industry: the consultants at Deloitte are forecasting an increase in turnover from 160 million to one billion Euros for 2020.
Reality-Check: High potentials in B2B
I don't pay attention to such predictions any more", says Stephan Schindler, Chairman of the Board of the VR association "Virtual Reality e. V. Berlin Brandenburg" (VRBB) "I rather look at what is happening in the industry", and finds some reasons for justified optimism: "We see that VR and AR are developing very well in a few application areas and are extremely stable and extremely lucrative for the players. These are areas which have little or nothing to do with entertainment and the consumer market. Indeed, the business-to-business sector is the largest growth market for VR and AR. His observations are confirmed by various analyses: "Some of the early companies in the VR market are now wisely turning to industrial applications," explains Tom Mainelli of International Data Corporation (IDC), "while waiting for consumer use cases beyond gaming and video." This is a good strategy, since about two thirds of VR/AR glasses are to be used in companies in the future. The enormous potential of the technology for companies is also confirmed by experts from the leading research and consulting company Gartner. In a forecast they assume that in three years 70 per cent of all companies will be experimenting with immersive technologies for consum¬ers and companies. Virtual and augmented reality technologies will fundamentally change business models and production processes by 2040.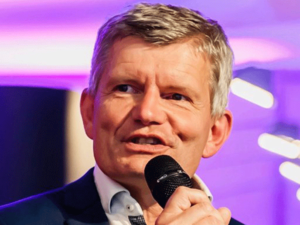 Stephan Schindler, VRBB © Stephan Schindler
German pioneering work
The foundations for this have been laid. Architects are already walking virtually through the future home with the client, while tourists are swimming with sharks - quite safely - thanks to 360° videos in the underwater world. "Location-based entertainment, in other words entertainment which cannot be experienced at home, ranging from hologates in cinemas, shopping malls and other places to dedicated offers in tourism and museums, is economically very successful and is growing," says Stephan Schindler of VRBB. Another area offers even greater potential: employees in automotive or manufacturing companies receive assembly instructions via AR glasses into their field of vision. And doctors use virtual reality to prepare for emergencies and save lives in the crucial seconds. "Learning, education and training are areas that affect virtually all industries," says the industry expert, "almost every industry has continuing education topics. Continuing education is always time-consuming, expensive and associated with high demands on quality. This shows what has been proven in pilot training for 20 years: simulation is very efficient. On the one hand it is practical, on the other hand it is cheaper than, for example, providing aircraft for training."
The economic advantage of VR/AR applications is also confirmed by companies which already use the technology: three quarters of them report that they achieve an operational advantage of over ten per cent. For example, through a reduction in costs, increased productiv¬ity or competitive advantages which pay off compared to the competition. These pioneers include companies in Germany, as they are among the pioneers of virtual and augmented reality. In terms of industry penetration, the Federal Republic is even in fourth place in an international comparison; according to a study by Capgemini, 38 and 28 per cent respectively of companies have already had experience with the technology – only China, the USA and France outperform the German innovators. If VR and AR are already being used by every second company in the countries mentioned, Germany should, accord¬ing to the experts, also be ready in three to five years. By then, the technologies could be standard in every second German company.
Tech or content?
"Immersive technology is more than just software and hardware," says Stephan Schindler of VRBB, clearing up the prejudice that "VR and AR need content, storytelling competence, interactivity, and understanding of games." These aspects will become increasingly important in the future, as industry analyses confirm. While a few years ago the greater part was generated by data glasses and only 20 per cent by 360° content, the ratio is set to shift in the future: as early as 2020, it is expected that 700 million euros - and thus 70 per cent of sales - will be generated by content. There could hardly be better news for the cross-section of companies, universities, research institutions, start-ups and tech enthusiasts who are dedicated to the topic in the capital region. After all, Berlin is not only excellently positioned in application-oriented research.
Fraunhofer HHI has developed a precise method for intraoperative measurements of prosthesis or tumour sizes with the ARRISCOPE, a digital stereo surgical microscope. In turn, the Laboratory for Experimental Surgery and Regenerative Medicine at Charité is actively researching new surgical methods with the aid of holograms. "We not only have a lively, dynamic start-up scene that is very internationally oriented," adds Schindler, "but also many years of experience with storytelling." Berlin's vibrant creative industries - publishing houses, media houses, agencies - are second to none. And Babelsberg, the world's oldest film studio, is only a stone's throw away. "Compared to the West Coast of the USA, where storytelling takes place in Los Angeles, but high-tech in San Francisco, both are close together in the capital region. This proximity also to technical colleges also creates excellent conditions. It gives us a once-in-a-lifetime opportunity. After all, nobody wants this digital revolution to pass by Europe, Germany and Berlin."
Success knows no (city) boundaries
The danger hardly seems to exist: Berlin's industry has long been causing a furore beyond the city's borders. The area of application of the intelligent virtual platform (IVP) developed by AV ACTIVE extends as far as distant Kazakhstan. The Kazakh pavilion at the Expo 2017 in Astana was only made possible by the software of the Berlin-based company. "We see ourselves as the planning headquarters for all the trades and stakeholders involved in a media technology project, such as content producers, technology suppliers, system integrators and end customers," says CEO Benjamin Brostian, explaining the princi¬ple behind the software. "We bring the threads together, check and validate large volumes of data from various sources, provide advice to content producers and develop our own technical solutions using state-of-the-art technologies such as VR, AR and live tracking."
The "Shoutr labs" system is also world-class: the Berlin company has developed a system with which museums can provide visitors to an exhibition with additional multimedia information. Whether audio guides, supplementary videos, pictures or 360-degree panoramas - in the Kunsthalle Bielefeld or the German Historical Museum in Berlin, these can be seen or heard directly on the end device practically and without any loss of time. The system, for which the AR agency was recently awarded the Berlin-Brandenburg Innovation Prize, is also used in cooperation with architects. "Using augmented reality, we have conjured up a complete building from the floor plan of a building, which appears on the smartphone during the on-site visit," explains founder Sebastian Winkler to Projekt Zukunft, "and we have many industrial customers for this. The aim is to visualize complicated processes with the help of augmented reality."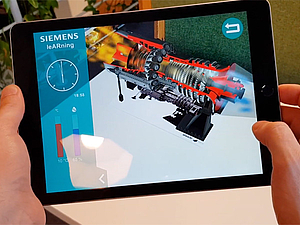 Shoutr Labs Augmented Reality application for Siemens © Shoutr Labs
Exozet Berlin proves how versatile the application possibilities of the technology are. For the first electrically powered model of the automobile manufacturer Audi, the luxury SUV e-tron, the team developed a VR experience in a class of its own. Potential customers can not only take a look into the cockpit, but with the help of a hoverboard they can even duel with the SUV. Wind machines also ensure that the wind blows around the user's ears during the virtual race. "It all started with the Formula E, which took place in June 2017 here in Berlin on the Tempelhofer Feld", says immersive media expert Georg Hitzenberger, "the car race was right below us on the field. Upstairs in our VR lab and downstairs in the audience area we showed the Audi e-tron VR Experience. We got great feedback." Not only in Berlin, but on tours from the salt desert to Canada, from Lebanon to Mexico.
Another project, which was implemented together with Siemens AG, turns out to be not so fast-paced but all the more instructive: Exozet developed training scenarios in which the company's engineers could interactively experience possible defects and individual functionalities of the 4000 turbines and better understand their design - without having to travel from all over the world to one location. A smart use of the technology, for which the young company recently received a VR NOW Award.
With the "Deep Dive" series Projekt Zukunft regularly gives an insight into current technologies in the digital, media and creative industries and provides information about actors, trends and applications from Berlin.
Contact
Tanja Mühlhans
Leitung Kreativ- und Medienwirtschaft, Digitalwirtschaft, Projekt Zukunft
Email