Berlin Open Data Day 2017 – Data is the key
On the 4th of October, the Open Data Day – the conference about data disclosure, initiated by the Senate Department for Economics, Energy and Public Enterprises ­ was held for the sixth time.
As part of the Berlin Open Data Day, data-providers of the administration department, art and science department met up to discuss and familiarise themselves with Berlin's IT-community, startups and other open data enthusiasts. Besides information about latest developments and trends, there were opportunities to experiment with open data during workshops and to familiarise yourself with various fields of application.
Further information about the program are here.
Here you get to a detailed review of the Open Data Day 2017.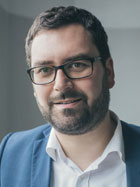 Sebastian Askar
Management of Digitalisation, ICT-economy and digital Infrastructure
Email