Deep Dive #12: Berlin creative industry vs. coronavirus crisis
Shutdown, social distancing, contact bans, curfews - topics which are already shap­ing the year 2020. Germany, or rather all of Europe and large parts of the whole world, are facing extreme challenges caused by the spread of the SARS-CoV-2 virus. The protective measures which the government is prescribing to slow down the course of the pandemic and thus avoid overloading the country's health system are hav­ing an enormous impact on private and economic life.
Innovations from the crisis
What is also clear in these times, however, is that crises are often also a good breeding ground for innovation and creative ideas. When many things suddenly change so lastingly and profoundly, the situation calls for new approaches - and in the case of the coronavirus crisis in 2020, these new approaches are often digital.
Digital economy: hackathons against coronavirus
In the current situation, it can be a source of encouragement to see how many ideas are bubbling up from Berlin's start-up and tech scene. Hackathons are an attempt to develop digi­tal solutions to overcome the coronavirus crisis. Numerous players from the start-up eco­system are highly motivated to make their contribution.
From 20 to 22 March, the #wirvsvirus hackathon, initiated by the BMWi, took place on the topic "How can we as a society together master the challenges arising from the coronavirus crisis with new solutions? Under the patronage of the head of the Federal Chancellery, Prof. Dr. Helge Braun, ideas and diverse solutions in the COVID 19 cri­sis were sought. The 20 selected winners of the hackathon can be found here.
The capital city hackathon Hack the Crisis – Berlin Edition also aims to provide digital support in the fight against the spread of the COVID-19 virus. Instead of a sprint format, a real marathon format, a networked ideas hub is to be created. Pro­jects from the fields of social cohesion, modelling, simulation and prognosis, hard­ware (3D printing, sensor technology, medical technology), education, culture and leisure, business and mobility, and information and communication can be submitted.
Shopping local against the crisis
"If you can't come to us, we'll come to you," promises the Berlin initiative #stayhomeclubberlin, which was initiated by an association of local companies. One can order regional, sustainable and fairly produced products here. With every order a donation of € 5 is given to Berlin clubs, organizers and artists via the #UnitedWeStream initiative.
Adaptability and inventiveness are also demonstrated by the Buy Local association, which was founded by booksellers as early as 2012 with the aim of fighting against headless bargain hunting on the net and for a lively, liveable city with a strong regional added value. The crisis situation and the necessary closure of shops has prompted them to launch the "Books against Corona" campaign. Hundreds of book­stores in German-speaking countries shared the same photo simultaneously via their social media channels. This is intended to communicate what the book trade is doing. "Let's seize this opportunity together! Let's show the world that we won't let ourselves be beaten down and that bookstores are part of the past, the present and even more so the future", says the official call from Buy Local. There are also plans for a solution whereby books ordered by telephone can in future be delivered by bicycle courier or delivery service.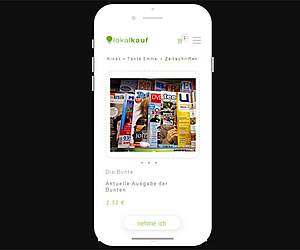 © Lokalkauf
Outside the book trade, Berlin retailers can take advantage of the new LokalKauf app, which is already known from the #wirvsvirus hackathon. It provides a fast online solution for local businesses. The app is intended to give them the opportunity to sell their products digitally quickly and easily via the online platform during the coronavirus crisis.
Helfen.Berlin provides another idea to save local companies. Via the platform, Berlin­ers can now purchase vouchers for their favourite cafés, clubs, shops, theatres and restaurants, which can be redeemed as soon as these localities can reopen. This is intended to help the often small businesses without large financial reserves through the current crisis. Affected localities can register online for the voucher sys­tem.
The Radkurier24 portal is also already available in Berlin. The couriers / but also volunteers usually deliver everything that fits in a backpack - and by bike for environmental protection. Via an online map, people in need can see directly and without registration where the couriers are currently on the road and available. Communication takes place exclusively between the end customer and the courier. Customers use the Live Radar to select the profile of the bicycle courier and make contact via SMS, Messenger or phone call to communicate the shopping list.
The digital ideas of the music industry
The creative industry is also coming up with a lot of ideas. Artists offer fan and mer­chandise items and call for donations, as the necessity to cancel their shows or con­certs puts them in financial straits which threaten their existence. In many places, calls are being made to buy music - whether as downloads or on sound carriers - and thus support artists directly instead of streaming the music via Spotify or other pro­viders. Livestreams are currently experiencing unprecedented hype. Musicians make streams of performances at home or in the rehearsal room available online and ask for donations and solidarity. Even world stars such as John Legend or Coldplay frontman Chris Martin have already produced livestream sessions under the hashtag #TogetherAtHome.
In Berlin, the city with the usual vibrant nightlife, it is above all the clubs and DJs who are suffering. The #UnitedWeStream initiative was therefore founded by Berlin clubs and organizers. Daily livestreams are made available online to enable party-goers who have to distance themselves from their hobby in the current situation to get their favourite club and artist into their own quarantine living room for a certain time. In this way, the largest digital club in Berlin is being created, which is intended to serve to save real clubs through appeals for donations.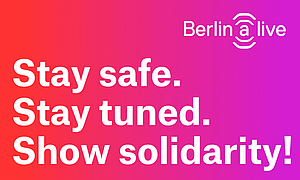 © Berlin(a)live
Berlin(a)live is another initiative born out of the plight of creative artists. It poses the question: "How does culture reach an audience when public events are can­celled? No matter whether it is a performance, concert, reading, play, cabaret, DJ set or chil­dren's programme, artists and other creative people are called upon to make their works available as a livestream as a sign of living solidarity.

Many artists and organizers are also calling for solidarity with #AktionTicketBehalten and are asking ticket buyers not to request their money back for the cancelled events and to send it in as a donation.
An industry knows how to help itself: Berlin cinemas in crisis mode
The crisis situation is also making itself felt among filmmakers and streaming pro­vid­ers. Although more is currently being streamed, almost all television and film pro­duc­tion worldwide has been halted and shooting suspended indefinitely. Also here the conse­quences of COVID-19 are devastating. For many actors and crew members this means unemployment and massive financial losses. Cinemas across Germany are also facing an uncertain future, but the industry in the Spree metropolis is also creatively resisting the situation: for example, there are opportunities for visitors to keep their favourite cinema afloat through advertising or direct donations (#hilfdeinemKino), to use a curated streaming offer or to support cinemas in the net­work directly through crowdfunding campaigns.
Art and culture: museums and galleries go digital
Berlin's museums are opening their digital doors and inviting you to take a tour from your own sofa. The offer ranges from virtual museums, online exhibitions and downloadable apps for exhibitions to research databases and communication plat­forms. Virtual offers are made available via museum4punkt0, cultural institutions from different regions of Germany are networking and devoting themselves to the question of what museums could look like in the future and what digital technologies can contribute to this. A question that is gaining in importance due to the current coronavirus crisis.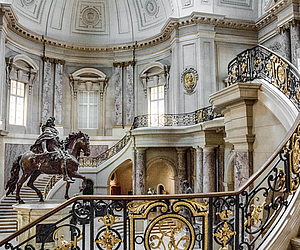 Bode Museum © Staatliche Museen Berlin
In Berlin, too, new avenues are being explored here: the five museums located on Berlin's Museum Island can be explored digitally from the comfort of one's sofa or desk via Google Arts & Culture. And so even quarantine is no obstacle to viewing the exhibits of the Altes Museum, the Neues Museum, the Alte Nationalgalerie, the Bode-Museum or the Pergamonmuseum in a digital tour.
The fact that necessity is the mother of invention has seldom been felt as clearly as it is these days. The many ideas and solutions which are being sought and found in the digital and creative industries and are springing up in Berlin and everywhere else provide a glimmer of hope in this time of crisis. However, the multitude and speed at which major changes are currently taking place also make it almost impossible to provide a complete overview.
The present collection can therefore only be seen as a start:
Film industry
Music industry
Art & Museums
Theatre
Book Market
Across industries
With the "Deep Dive" series Projekt Zukunft regularly gives an insight into current technologies in the digital, media and creative industries and provides information about actors, trends and applications from Berlin.