Deep Dive #13: Visual effects in Berlin
They generate death rays, give superpowers to ordinary mortals and resurrect destroyed cities - what was once reserved for Greek gods is now their profession. Their names are not Zeus, Artemis or Heracles, but Rise, Trixter or LUGUNDTRUG (Lies and Deception). And instead of residing on Mount Olympus they live and create in Hollywood, London, Munich and Berlin. We are talking about Visual Effect (VFX) Artists.
On Netflix and Amazon productions, in online videos on YouTube, Twitter or Facebook and in games anyway - visual effects and animations are increasingly blurring the boundaries to reality. But they are not only found in movies, television or video games. Today, every form of advertising is animated or edited as well. Not to mention animations on websites, in medical technology, at events or in museums. In short: visual effects and 3D animations have become an integral part of our everyday life - and the appetite for them never seems to be satisfied.
Boom in the global animation, VFX and games industry
Whether it's retouching, inserting a graphic into a mobile phone display or completely animating superheroes - especially in blockbusters like the "Avengers" movies or "Captain America", every scene contains VFX. Hollywood spends between 40 and 80 million dollars on these nearly 3,000 effect settings, just for animation and VFX. This corresponds to about 20-25 per cent of the production costs of films, TV series or videos. This means that the industry is expected to exceed the 270 billion US dollar mark in 2020, according to a study by Digital Vector. Decisive for this is not only the increasing turnover at the box offices worldwide, but above all the immense increase in the number of streaming videos. While turnover with animated content here amounted to 2.9 billion US dollars in 2018, it is increasing by eight per cent annually. Even more spectacular are the growth rates in global e-sports, which are also characterized by VFX and animation: at 30 per cent, these are unbeatable and will probably catapult the former niche segment into the billion dollar dimension by 2019. Then there is the gaming industry, which had a turnover of 96 billion US dollars in 2018.
Faster, better and cheaper than reality
Good reasons for the boom can no longer be found only in the post-production of film and television. After all, anything that can be shot in real life can just as easily be created in virtual scenarios on the computer. This is why we now also talk about virtual film production, because every step of film production can now be replaced on the PC. It is no longer necessary to build a miniature of a skyscraper, blow it up with a real bomb and possibly set it up again during a re-shoot - the whole process could also be solved digitally, in other words virtually. This applies not only to the skyscraper or the reconstruction of the city of Berlin before the fall of the Wall. The muzzle flash of a pistol shot is added digitally, just as the clouds in the sky are replaced by sunshine - visual effects are as versatile as they are invisible. What is possible with environments and things does not stop at the human actors. "Actors have long since been rejuvenated by means of visual effects or implemented in more recent versions of themselves, or dead people are brought back to life on the screen, such as Peter Cushing, who died in 1994, in the current Star Wars film," according to the study "Wirtschaftliche Bedeutung der Filmindustrie in Deutschland" (Economic Significance of the Film Industry in Germany), which was commissioned by the Federal Ministry of Economics and Energy in 2017. According to the study, digital stuntmen, who are placed in the environment in various production steps, could also become the norm in the future. "Digital stuntmen do not pose any danger whatsoever when they are set on fire or thrown from a 100-metre high building. You can design it frame by frame and you are much less dependent on coincidences on the set," reports Florian Gellinger, founder of the Berlin VFX studio Rise and initiator of the German Section of the Visual Effects Society. "This gives major productions with a volume of 200 million US dollars the certainty that scenes can be created the way they should be - that you don't have to live with a compromise. It's a paradigm shift. Real film is no longer shot with cameras alone, but is now largely created on the computer." After all, a smart use of VFX and animation can not only save costs and simplify the often complex logistics. Especially when a project is on a tight schedule, it can be of decisive importance for its feasibility.
Hollywood's accolade for Berlin
The Berlin VFX studio Rise already experienced this in its beginnings more than ten years ago: in 2011, Florian Gellinger and his co-founders Sven Pannicke, Robert Pinnow and Markus Degen received high-level visitors from the USA. The producers of "Captain America" asked the four boys to simulate death rays and let the people who were hit fizzle out. The Berliners managed the task overnight, after their more experienced colleagues had been unable to crack it. Literally. The realization of the near-impossible in a tight schedule was a kind of accolade and seal of approval, Gellinger says in the film-tv-video.de interview: "That put us 'in' with Marvel." 12 years after their foundation they still are. In the meantime, besides its Berlin headquarters, Rise now has branches in Cologne, Stuttgart and Vienna. The dynamic quartet employs around 100 permanent artists, plus another 120 to 200 freelancers at peak times. Besides the comic characters of Marvel and DC Comics, Rise has also worked on "Harry Potter", "A Cure for Wellness", "Fast & Furious 8" and "Russendisko". For the series "Babylon Berlin", they built a database of virtual buildings, people, trees and curbs and revived the Berlin of the 1920s. And for the first German Netflix production, "Dark", the team placed a virtual nuclear power plant at the gates of the fictitious city of Winden. This makes Rise, which has also been a co-producer on the international market since 2016, one of the largest VFX studios in Europe.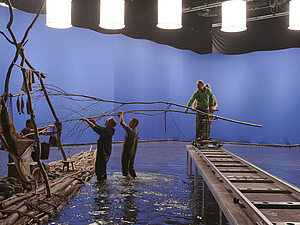 VFX set of "Die Abenteuer von Huck Finn" © LUGUNDTRUG
The Berlin VFX greats
As spectacular as the success story of Rise is, it is not an isolated case. Who doesn't know Dragonstone Fortress, the cities of Yunkai, King's Landing or Old Town from the most expensive series of all time which has won the most awards - Game of Thrones? And who didn't hold their breath when the dragons of Daenerys Targaryen destroyed the enemy armies? But hardly anyone knows that these locations and scenes were born in Berlin. More precisely, in the minds of the creative people from the studio "KARAKTER". It should come as no surprise that the German artists, who have also participated in award-winning games such as "Horizon Zero Dawn" or "Ryse: Son of Rome", were awarded the coveted Emmy Awards for "Outstanding Visual Effects" for three years in a row. The fact that business is booming is also not surprising - not only for Karakter.
The Celluloid VFX team from Berlin-Kreuzberg, for example, brought fantastic things to the screen in "Underworld: Rise of the Lycans", "Gamer" and "Underworld: Awakening". And Studio LUGUNDTRUG, with offices in Cologne and Berlin, not only enriches commercials and events with one or the other (visual) effect; it has already worked on the Mark Twain film adaptation "Tom Sawyer", nominated for the German Film Prize, and its successor "The Adventures of Huckleberry Finn" in 2011. It also conjured up the VFX for the Caroline Link film "Der Junge muss an die frische Luft" as well as for "Winnetou 2016", a series by RTL, Television and Ratpack to celebrate the series' 50th anniversary. At this year's Berlinale, the creative minds had several irons in the fire: in "O Beautiful Night", a collaboration with "Komplizenfilm" and director Xaver Boehm, they provided the dark and melancholic night atmosphere. For "All my Loving" the team used "all our VFX tricks for the hidden visual effects", the website says. Like Lugundtrug, Germany's largest VFX studio, TRIXTER, which was taken over by the British global player Cinesite in 2018, has added Berlin to its Munich location. Since 2014, around 220 artists have been bringing "Iron Man", "Black Panther", the Netflix series "Lost in Space" and AMC's "The Walking Dead" to life with visual effects in the animation studio. This also applies to the locomotive Emma from the live action film "Jim Knopf", which was partly shot at the Potsdam-Babelsberg film studio.
Berlin-Brandenburg: Germany's number one film and series location
Why national and international VFX companies choose the German capital as a location is easy to explain for Kirsten Niehuus, Managing Director of Film Funding at Medienboard Berlin-Brandenburg. "Berlin-Brandenburg is Germany's number one film and series location, so it's only logical that VFX studios settle here and continue to grow," she says in aninterview. Moreover, outside sets such as "Neue Berliner Straße" in Studio Babelsberg are even specially designed for the combination of real filming and VFX. "As a result, the VFX industry is growing exponentially," explains the expert, "the rapidly growing demand for digitally produced film images offers great opportunities for the region," says Niehuus. Since August 1, Rise, Trixter, Lugundtrug and Co. have been able to apply for a grant from the German Federal Film Board (FFA) as service providers for VFX budgets in excess of eight million euro. In addition, since 15 October 2018 the artists have been able to apply for nationwide funding from the German Federal Film Fund (DFFF): 25 per cent of the German production costs with a cap of 25 million euro per project. Compared with countries such as England, Canada or Australia, the amounts involved are relatively small, but insiders such as Florian Gellinger from Rise see this as a "clear commitment to Germany as a VFX location." "Overall, the prospects for the VFX industry in Germany are therefore getting better and better," he says, "and that's definitely good news".
So the chances are good that the Berlin gods of today will remain immortal. At least through their works on canvas.
With the "Deep Dive" series Projekt Zukunft regularly gives an insight into current technologies in the digital, media and creative industries and provides information about actors, trends and applications from Berlin.
Contact
Christopher Hohage
Medienwirtschaft, Medientechnologie, Games, Film- und Fernsehwirtschaft
Email