Graham Ashton, esports International Relations Manager at Riot Games Europe
Hello Graham. Good to speak to you. Would you quickly introduce yourself and your work at Riot Games Europe?
My role is fairly new and unique for a game publisher. I act as a liaison and advisor for Riot Games on all regulatory and policy matters related to esports. This includes speaking in conferences and industry-facing settings, representing Riot in trade associations, and advancing relationships with governments and policy makers on all topics related to competitive video gaming. My goal is to help usher in a framework that allows Riot's esports ecosystem to flourish, and in which player safety and wellbeing, alongside integrity and fair play, are protected.
In December 2021, Riot Games organized the first Valorant Champions event. Due to COVID-19 restrictions, it was held without a live audience. What challenges did you encounter in hosting the event? How did it affect your initial plans?
Last year, Riot Games were able to host several more offline competitions (known as LANs) compared to 2020. However, the ongoing health and safety risks posed by the pandemic meant that, unfortunately, we could not open these events to live audiences as the safety of our staff, players and teams continues to be our highest priority. Furthermore, ever-changing travel restrictions required us to move the planned location for several international competitions. VALORANT Champions, which is the culmination of the VALORANT Champions Tour (VCT), was hosted in Berlin following the success of the Masters 3 event back in September. We originally wanted to roadshow each global competition to a different region, but ultimately European travel policies were the most favourable for producing an event in which all qualified teams could attend.
Like Masters 3, the Champions Finals were held at the Verti Music Hall. This time around, local health and safety guidance prompted a shift to Studio Babelsberg for the early stages of the tournament. Our studio events are subject to rigorous testing protocols, with only individuals essential to the broadcast (i.e. players, coaches and team support staff, on-screen talent, production crew, security) permitted on site.
Despite the ongoing challenges, the event was a huge success and a great cap to the inaugural VCT. European team Acend were crowned the first ever VALORANT Champions, in an exciting Final that was the perfect end to VALORANT's first official year as an esport.
League of Legends and VALORANT are global phenomena in the esports world and among non-professional gamers alike. What makes these games so popular? Have you identified key elements for successful multiplayer online games in terms of gameplay and longtime engagement?
At Riot Games, we strive to be the most player-focused games company in the world. Each of our games delivers a core experience that is accessible to players of all skill levels and keeps them coming back for more. There are a number of elements that are important to the success of a game; the quality of the game itself, the flexibility and accessibility of playstyles, rewarding progression systems, and fast-paced strategic gameplay. We believe in providing a platform for everyone to enjoy a competitive gaming experience in a way that suits them, so all of our games are tailored with that in mind.
Our free-to-play model has also significantly lowered the barrier to entry for many gamers and during the ten years since the launch of our first title, League of Legends, we've continuously refined and upgraded the game based on player feedback. The result is a broad community where everyone can find their own meaning in the game; whether that's striving for excellence in esports, looking to engage more deeply with our in-game universes, or just looking to play casually with friends and family.
As awareness for esports grows, how should the industry be supported? What are the key differences between esports and traditional sports?
Government stakeholders are becoming increasingly aware of esports and the opportunities it offers for economic growth, job creation and education. There are increasing examples of governments supporting esports events at the city and state level; working directly with publishers and tournament organizers, and incentivizing more esports activity in their region.
It must be emphasized, however, that esports are part of the video game industry, which has existed for over fifty years now. Unlike a sport, each video game represents a wholly unique creation by its respective developer/publisher and contains many copyrightable elements (images, text, sound). Esports also exist under a completely different ecosystem to sports. There are many esports genres and each game is uniquely different, requiring individual competitive frameworks and support in order to function; as such, we cannot group esports titles together like we would with traditional sports. The number of competitive games on the market continues to grow, with Riot alone supporting five unique esports titles, each with their own specialised ecosystem. Arguably, the most important factor is that competitive video games require constant reworking and balancing - as well as consistent community management and player support.
The first season of Arcane successfully aired on Netflix and was already praised as a "classic and standard-setter for years to come". Please give us some insights into the process and cooperation with Netflix. How did Arcane come to life and how was LoL adapted for the show? How did you make sure to engage fans of the IP as well as newcomers to the franchise?
Unlike the typical approach to adapting video games to other media, Arcane doesn't simply retell the plot of a game or recreate iconic moments. It boasts an original story featuring several popular League of Legends characters and makes their individual narrative arcs the central focus (instead of just game references). Arcane contributes to the world building for League of Legends by showcasing a collection of intertwined and engaging stories from the world of Runeterra in one location. This is why it's accessible to both existing fans and newcomers - certainly helped by the stellar animation by Fortiche and exceptional voice talent and music!
For existing Riot Games players, there were a number of promotions to drive up hype and give the series a truly unique digital premiere. The RiotX Arcane event brought Arcane-themed items and modes to all our games, as well as crossovers with several non-Riot titles. The League of Legends World Championship final featured an Arcane-themed Show Open, followed by the Global Premiere, hosted live on Twitch. Several content creators also co-streamed the first three episodes, allowing them to share the Arcane experience with their communities; a first for a Netflix series.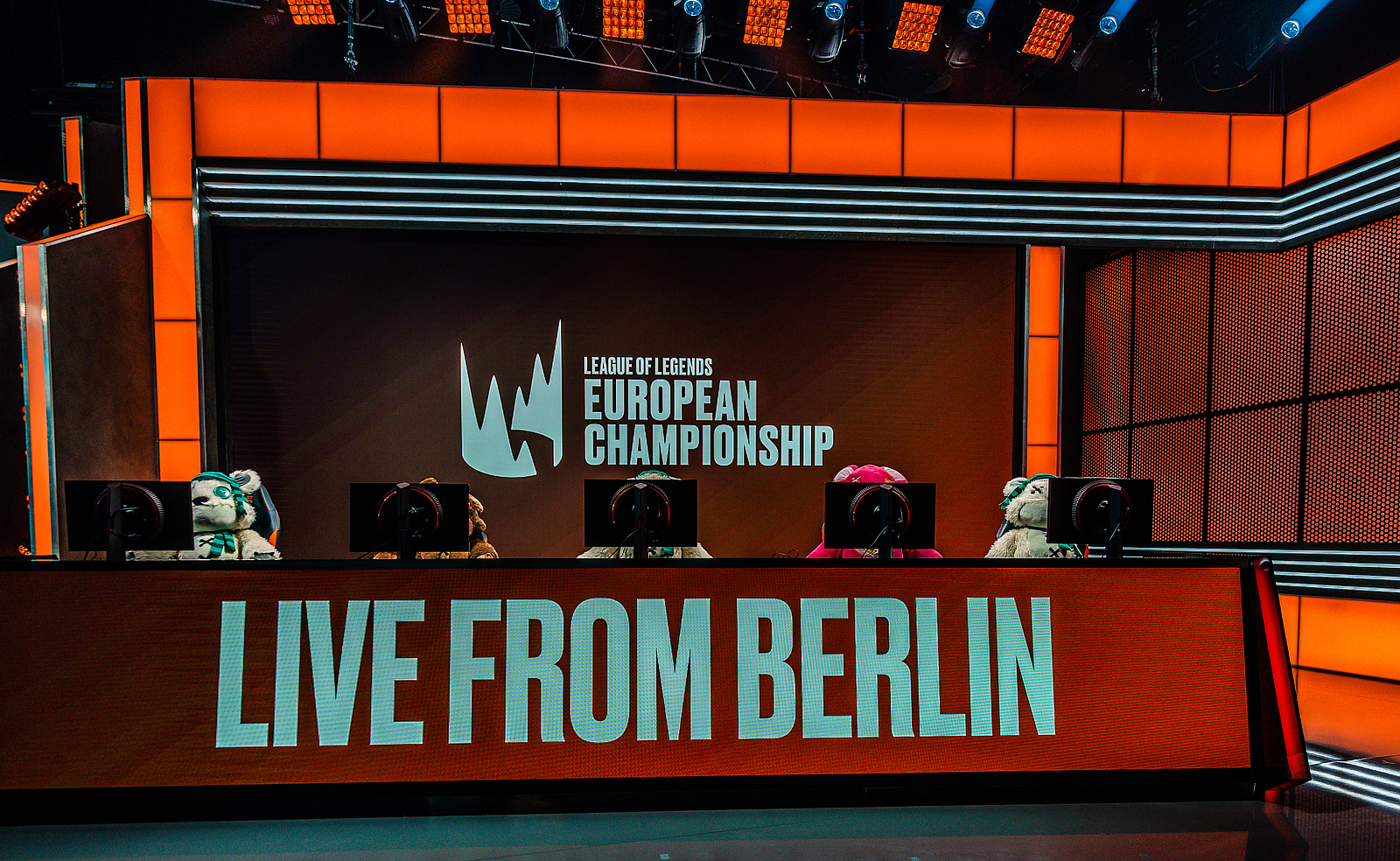 Berlin is known to be open-minded and inclusive. What's your take on the gaming and esports scene here and how does the city stand out for studios, publishers and developers?
Berlin has quickly developed into one of the most important cities for European esports. It has been home to Riot Games European Esports competitions since 2014, which in turn has led to many competing teams setting up offices and training centres within Berlin. There are also many other businesses founded here including; tournament organizers, esports-ready studios, event spaces, and esports service providers.
Berlin is a uniquely international city, with a diverse population from across the world. It's relatively easy for new residents to settle down, even if they are still learning the language and local administration requirements. This is helpful for attracting and relocating our own talent (which includes 100+ full time employees) and for the players and team staff that must travel to Berlin for tournaments, or reside here for the duration of a league season. The city has a sizable gaming population, and a history and "tradition" within the esports scene in particular.
You've got an office and a studio space in Berlin. What are you currently working on and what are your plans for 2022 and beyond? Anything exciting you can share with us…?
Our 2022 esports season has already begun with the Spring Season of the League of Legends European Championship (LEC). In the interest of safety we are remaining cautious and forgoing a city roadshow event for Spring, however, this will allow our team to build upon last year's incredible online show in our studio. Likewise, the Turkish Championship League (TCL) Winter Season is also underway, while the League of Legends Continental League (LCL), which covers Russia and the CIS region, will begin its 2022 season in February.
The VALORANT Champions Tour is also expanding heavily. The EMEA region will now be a multi-layered ecosystem, with the professional level Challengers competition being accompanied by eight VALORANT Regional Leagues (including the VRL DACH Evolution for the German-speaking market) and the return of VALORANT Game Changers; a competition for the new wave of women taking VALORANT esports to the next level.
Finally, year one for the mobile game League of Legends: Wild Rift, will include the first ever EMEA Championship. Regional online qualifiers for EU, Turkey, and the CIS begin on February 4th, and will culminate in a grand final in May.
All these competitions are managed from our offices in Adlershof, working with local offices and competition partners across the EMEA region!
Thank you for the interview.
Contact
Christopher Hohage
Medienwirtschaft, Medientechnologie, Games, Film- und Fernsehwirtschaft
Email