Deep Dive #9: 5G in Berlin
"We're not waiting for the German government, we're moving ahead with the expansion of 5G," said Ramona Pop, Senator for Economic Affairs, Energy and Public Enterprises, heralding Berlin's promising future: the German capital is to become the model region for the fifth generation of mobile communications, 5G! While the Federal Ministry of Transport and Digital Infrastructure wants to create the conditions for the rollout of 5G networks in its 5G Strategy for Germany 2017 by the end of 2020, the expansion in Berlin has already begun this year: the Senate Department has agreed with Deutsche Telekom to rapidly expand the mobile communications stations. In return, the city enables the use of public infrastructure and, in particular, provides carrier structures for base stations with low transmission power, so-called small cells. In addition, the approval and licensing procedures will be accelerated in order to provide primarily future locations such as the Adlershof Science and Technology Park, the Siemens Innovation Campus, Messe Berlin and the Berlin underground with the new standard. That was in January 2019. Since then, the expansion has been proceeding at a rapid pace: Telekom's three 5G antennas, which have been transmitting under real conditions in the 5G test field in Berlin's city centre since May 2018 and with which the first 5G data transmission was carried out in an active network in Germany, have been experiencing strong growth. 66 antennas alone are transmitting with bandwidths of 1GBits and more in the centre of Berlin. With six square kilometres, they form the largest contiguous 5G area in Germany. Berlin thus has the highest share of the 5G network of the Deutsche Telekom, which spoke of 129 new-generation antennas at the IFA International Consumer Electronics Fair. In addition to Berlin, Bonn, Darmstadt, Cologne and Munich, Hamburg and Leipzig are to follow by the end of the year. By the end of 2020, the provider aims to supply Germany's 20 largest cities with 5G network clusters.
Cluster versus single locations
While Deutsche Telekom is focusing on supplying contiguous areas, so-called 5G net-work clusters, its competitor Vodafone is pursuing a different strategy: it operates in 38 cities and thus in more cities than Telekom, but often only has one base station activated there. It goes without saying that Berlin should not be missing: in August this year Vodafone activated its first 5G location in Adlershof. In other words, where universities, business and research institutions can be found. Further locations followed with Bernau and Steglitz, the headquarters of the long-established Osram company and a power plant of the electricity provider Vattenfall. And this is only the beginning: after all, Vodafone Germany wants to reach 10 million people with the new standard by the end of 2020. By the end of 2021, the number of users is expected to have doubled to 20 million.
5G expansion and device availability: faster than expected
In order to achieve this ambitious goal, mobile phone providers are stepping on the gas to expand the 5G network. And they are not alone: the development of processors, chip-sets and RF frontends for mobile devices which support 5G mobile networks is also proceeding at a rapid pace. Accordingly, the market launch of 5G-enabled devices such as smartphones and routers is getting off the ground faster than expected. While a few years ago they were still the size of refrigerators and impractical, the Samsung Galaxy S10 5G, the Huawei Mate X20 5G and the LG V50 ThinQ 5G have been the first devices and con-tracts for everyday use on the market since July. Further, above all cheaper models such as the Samsung Galaxy Fold 5G and Samsung's first 5G-compatible mid-range smartphone, the Samsung Galaxy A90, are to follow. "Next year, 5G will become even more important. Then more 5G smartphones will be available on the market," explains Gerhard Mack, head of technology at Vodafone Germany, "at the beginning, 5G will be particularly popular with technology fans and those who want to be at the forefront. Interest in surfing the 5G network for the first time is already there."
Fast, reliable, energy-efficient …
Streaming Netflix movies in real time or downloading them in seconds – transmission speeds up to 100 times faster than today's LTE (4G) - should make this possible in the future. But 5G does not only bring agreeable advantages in everyday life; it is also crucial for the success of companies. At least 71% of German founders are convinced that 5G is very important or important for their business. This was the result of a survey conducted by the Startup Association and the Internet Economy Foundation among more than 200 start-ups. In addition to latency and delay-free data transfer in real time, the mobile radio standard is also considered stable and reliable and scores with a significantly higher connection density - more devices in a certain area are of decisive importance, especially with an increase in IoT devices and machine-to-machine (M2M) communication. In addition, terminal devices such as sensors consume only low data rates and therefore require little energy. However, according to the study "5G - Wie Startups die Zukunft gestalten" (How start-ups are shaping the future), which the Bundesverband Deutsche StartUps together with Vodafone the central advantage of 5G is hidden behind the term "network slicing": At any time, one is informed which network properties different applications require and provides smartphones, cars or robots with the optimum subnet. This pays off in critical applications such as smart factories or telemedicine.
Early access to 5G required
"For urban mobility concepts, smart cities, innovative industrial plants or climate-friendly traffic policy changes the 5G mobile communication standard is necessary," confirms Economics Senator Ramona Pop. "An early expansion of 5G mobile communications will allow the multitude of our innovative Berlin companies to develop 5G applications and test them in a real environment with real users," she explains why Berlin's network expansion is focusing on industry and business. This is entirely in the spirit of the Bundesverband Deutsche StartUps. After all, there is agreement that 5G will be a central economic factor and innovation driver. What exactly the products and business models look like, however, is still unclear. Start-ups in particular could provide answers here due to their creativity, flexibility and technological affinity. "For start-ups to develop their full innovative power, they must have better access to 5G technology - already today. The necessary experimental fields must be opened up for them," says the start-up study. But this is precisely where the challenge lies: at present, in many places, the technical possibilities and the necessary expertise to develop and test new applications for 5G are still lacking. Cooperation between different players - from start-ups to universities to established companies - should close the gap.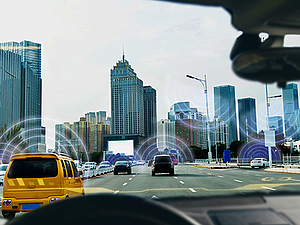 OTB-5G+ © Fraunhofer HHI
Offenes Testfeld Berlin opened
One of these cooperations is the "Offene Testfeld Berlin" (OTB-5G+), which is coordinated by the Fraunhofer Heinrich-Herzt-Institut (Fraunhofer HHI). In partnership with the Senate Department for Economics, Technology and Research Berlin, TU Berlin and companies such as NVIDIA ARC GmbH Berlin and Cisco Systems as well as Cisco Optical , the new network architecture for 5G and subsequent mobile communication systems is to be investigated. One of the focal points of the still young project is the development of distributed computing resources that guarantee a low delay in data processing due to their proximity to the access nodes – an important basic requirement for autonomously networked driving. In the project, which will run until 2022, sensor data from vehicles and sensors will for example be collected at street lamps and networked to form a central location image in order to provide vehicles with an accurate image of their surroundings. The results will be used to develop solutions which will first be demonstrated in a test field on the TU Berlin campus and the surrounding roads and can later be implemented by companies. The partners of the € 6.7 million project, 76.8 per cent of which is funded by the Federal Ministry of Education and Research, hope that in particular regional small and medium-sized companies will benefit from this.
UPLIFT for 5G start-ups
However, it is not only politics, science and research that are in demand when it comes to making 5G accessible to (young) companies: "It is in the nature of things that mobile communications providers in particular are under an obligation", the start-up study makes these companies responsible. An invitation that seems to be falling on sympathetic ears. For example, Vodafone has initiated the accelerator programme UPLIFT "We want to create a win-win situation for our partners and for Vodafone," says Michael Reinartz, Director of Innovation & Consumer Services at Vodafone. The programme has therefore "created a central interface between the start-up ecosystem and Vodafone Germany in order to promote smooth and targeted cooperation." The start-up gains access to business customers and benefits from the telecommunications company's connectivity and know-how. Additional support is provided by marketing and PR activities and access to the mobile communication provider's innovation network. This will increase the visibility and presence of the solution on the global market. "But our collaboration is also designed to push ahead with the start-up in a more practical way," Reinartz emphasizes, "so UPLIFT's cooperation partners can further develop and test their IoT applications in our excellently equipped research labs and facilities for 5G and narrowband IoT." Finally, the expansion of the 5G standard will open up new, groundbreaking and as yet little explored areas of activity and make possible applications which cannot be realized with the existing LTE network.
Vision: rolling office
The vision of "Blacklane" is just such an application in which the fifth generation of mobile communication plays a decisive role: the chauffeur service wants to become a rolling office. Innovation and technological affinity are so to speak in the blood of the company, which was founded in Berlin in 2011. It was quick to focus on digitization in order to distance itself from its competitors. Successfully: with the help of uniform standards, transparent prices and uncomplicated booking via app, Blacklane, which is primarily active in the business sector, was able to build up a large customer base in 300 cities and 60 countries. With 5G, Frank Steuer's team expects a further growth spurt: "With 5G, our vehicles will become rolling offices," the co-founder and Managing Director is convinced. "Thanks to high bandwidth and security, our customers can use their time in the car even more productively and above all rely on the network." On average, guests spend a good hour in the limousines and business vans. To enable business-critical processes such as video telephony or simultaneous work in the cloud during this time, a 100% fast and stable Internet is a basic requirement. What is currently still missing due to a lack of coverage would already be technically feasible today through the use of mobile 5G hotspots. Not every customer would have to own a 5G-compatible telephone, but would also be able to exploit the performance potential with his older end device. It is a "promising application scenario" of the new standard, writes Michael Reinarzt of Vodafone Germany, who selected Blacklane as one of ten successful companies for the start-up study. He hopes that, as the company is entering "together with innovations into the specific implementation phase", a rolling office will conquer Germany's roads in the not too distant future.
Cooperation: catalyst for 5G innovation
The extent to which cooperations are predestined to advance new digital technologies such as 5G, AI and IOT and to deliver innovations is also demonstrated by "hubraum", Deutsche Telekom's tech incubator. Since 2012, start-ups and stakeholders in the digital ecosystem in Berlin, Krakow and Tel Aviv have been brought together here: "We deliberately made our 5G and Edge infrastructure available to start-ups at an early stage," explains Claudia Nemat, a member of Deutsche Telekom's Board of Management responsible for technology and innovation, "we learned a lot from implementing their 5G ideas together." For example, which 5G services would be most relevant. "Especially in the area of education and entertainment, the possibilities of virtual and augmented reality and gaming are extremely promising," she found out. Start-ups in turn benefit from the special mentoring and support programme, and access to Deutsche Telekom's network can also be useful. Above all, however, hubraum offers in its co-working space in Berlin not only the option to work free of charge, but also to test the products for the fifth mobile communication generation live. Participants in the "hubraum 5G Prototyping" programme, which was launched in November 2018, also benefit from the latter. For eight months, start-ups were sought around the world which could help get 5G off the ground. With 60 telephone calls, the shortlist was reduced to 15 creative innovators from all over the world: they put their ideas through their paces at the 5G test field in Berlin. The full-body VR application of "VRee" from the Netherlands passed the test just like the AR platform of "immersiv.io": it allows viewers to call up additional information about the game or the players in real time during huge sporting events. The product has already proven itself live at Telekom Baskets basketball matches.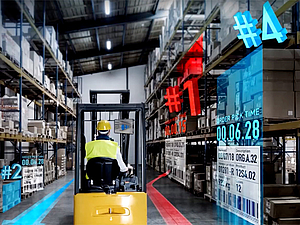 AR Visualix Demo © Visualix
The Berlin start-up "Visualix" is also happy to make use of the 5G testing option in hubraum: its mapping and localization technology links augmented reality content with centimetre accuracy inside and outside to any position or object on earth. "With conventional technology, you can only enable AR to be placed on a 20 square metre map," ex-plains founder Darius Pajouh to hubraum. "With Visualix, we can extend this map to 20,000 square metres. This enables completely new use cases which previously weren't possible". He notes that for the first time it is possible to map the entire physical world with AR experiences. Instead of wiring a warehouse with 1000 beacons to the tune of € 250,000, forklift trucks could be located at a fraction of the cost - without installing hardware or having to undertake costly maintenance on markers and beacons. For Pajouh it is an enormous advantage to test the technology in a 5G environment - especially because it "brings new opportunities". While Visualix was initially intended primarily for the retail, logistics and manufacturing industries, the team was already in July looking at how the technology could be used in gaming. A few months later, with "Congruent AR", which allows all players to see 3D objects from multiple devices, a corresponding product is already on the market. But that should hardly come as a surprise, given the speed with which the 5G players in Berlin work...
With the "Deep Dive" series Projekt Zukunft regularly gives an insight into current technologies in the digital, media and creative industries and provides information about actors, trends and applications from Berlin.
Contact
Dr. Frank Schramm
5G-Mobilkommunikation und IoT
Email