The Games Industry in Berlin plays in the Premier League
The Games industry in Berlin leads the way in Germany with the strongest growth across the country:
With its about 200 Games enterprises, central associations, institutions and special training locations, the capital has the most concentrated and most diverse Games industry in Germany.
Traditionally, Berlin is home to a strong developer community, worldwide acting publishers and distributors, numerous Indie-studios as well as, for instance, service providers for advertising, paying systems, musical settings, localising, quality assurance or Concept Art.
Main focus is on the sections of Social Games, Online- and Browser games, Mobile Games, Serious Games, Virtual Reality Games, Edutainment, and E-Learning.
Due to an excellent expertise in respect of Virtual Reality, Augmented Reality, App-development as well as Data Analytics, this industry is an innovation driver and interface to Industry 4.0.

Berlin is increasingly developing to become one of the international locations for eSports, one of the strongest growing branches of the Games industry in Germany.
The games industry in Berlin is becoming an increasingly relevant economic factor. Gamescapital.berlin is diverse, innovative, creative and international - just like the city itself.
Funding programme (selection)
Netzwerke und Verbände
Veranstaltungen
Exhibition booth Berlin-Brandenburg
Additional information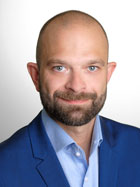 Christopher Hohage
Media, technology and games industry; film & and broadcasting industry
Email