Deep Dive #11: Podcasts & Audiobooks in Berlin
They are the medium of the moment: audio offerings such as podcasts are now a must. Not only big companies like Audible or Spotify are giving people something to hear. In Berlin, publishers, agencies and start-ups are now making their mark in various formats.
When Matze Hielscher talks to Charlotte Roche, it can take a while. Two hours and 36 minutes to be precise. Not a rarity in the Hotel Matze podcast. Nevertheless - or perhaps for this very reason - interviews with prominent guests reach an average of 120,000 people. "The podcast medium is - unlike others - very, very slow. With podcasts one takes one's time", says Hielscher, co-founder of the Berlin media enterprise "Mit Vergnügen" ("With Pleasure"); "on the other hand, people no longer want to let time pass unused, but to spend it in the best possible way. When we drive a car we listen to podcasts instead of music because we can learn something in the process. This is the reason why podcasts are such a success." Matze Hielscher must know. Since 2013 he has been occupied with podcasts: first as a consumer, then as a producer. In mid-2016 he started his interview podcast based on the model of American greats like Joe Rogan. Today, the interviews are among the podcasts with the widest reach in Germany. "Last year the number of subscribers doubled", the former bassist of the indie pop band "Virginia Jetzt!" is pleased to report, "we earned 5-digit figures with Hotel Matze in the first year, now we are in the 6-digit range. "I doubt whether the podcast medium is the big cash cow especially for publishers," says the Berlin resident, "the market is too small for that." For him, the potential of an intimate medium lies more in branding: "It's often the last voice you hear before you fall asleep. Or the first thing you hear in the morning," says Hielscher, "that creates a connection and intimacy. It's all about the community and less about crazy business." This should also be kept in mind by companies which want to use podcasts as advertising space. In the American podcast universe pretty much all formats are already marketed, but in Germany there is still a lot of room for sponsoring.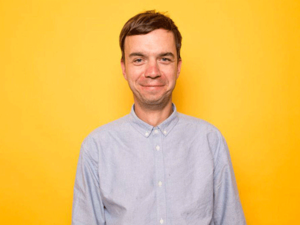 Matze Hielscher © Mit Vergnügen
According to Hörkompass 2019 more and more Germans like to have a lot on their plate: one in three - around 23 million people - listen regularly, and almost eight million listen to audio books, radio plays or podcasts every day, twice as many as in 2018. Podcasts are considered to be a particular growth driver: according to Bitcom more than a quarter of all Germans download audio files at least occasionally. According to a YouGov study 44 per cent of 18-30 year-olds switch on daily or weekly, and 30 per cent of over 50 year-olds. An end to the "podcast boom" is not in sight, according to Goldmedia Trendmonitor, which predicts that by 2020 a third of all Germans will be consuming podcasts at least occasionally. On the one hand, the smartphone makes it easier to use audio formats. On the other hand, the under 40s in particular suffer from screen fatigue. In addition, the growing popularity of voice searches, such as Siri or Alexa, is expected to account for 50 per cent by 2020. Accordingly, Google also wants to show podcasts in its results list very soon.
Audio is here to stay
"From audio boom to everyday audio," concludes Oliver Daniel, German head of Audible. The Amazon subsidiary is prepared for the increasing demand: at the end of 2019, the company opened four new studios on 250 square metres in Berlin Mitte. "The Audible studios are to become a new creative site and a meeting place for Berlin's cultural scene and strengthen the capital as the most important audio location in Germany," emphasizes Daniel. In addition to lectures and workshops, the studios are to host about 15 per cent of the productions planned for the German market. With 500 audio titles in 2020, that's something to be proud of. Among them are more and more in-house productions. "Podcasts are the logical extension of the programme and, in contrast to audio books, they are shorter and serial," reveals Paul Huizing, Senior Director Content Creation EU, in the "kressköpfe" interview. The themes for the on-demand series do not just come from within the company. "Journalists can contribute their ideas and creativity, and have found in us a partner who also tries out new things and shows courage to take risks," Huizing names the advantages for both sides, "this is the only way to create formats that do not yet exist." Formats such as the investigative podcast "Im Untergrund" (In the Underground) by the journalist Patrizia Schlosser about the three remaining RAF terrorists, which won the German Radio Prize - the first podcast ever.
Also Nike Wessel and Isabelle Rogge from Studio36 (formerly 'dasprogramm'), a Berlin agency for audiovisual media, are cooperating with Audible on their environmental podcast Planet A "We decided to do such a complex and research-intensive production with a partner who can guarantee a wide reach," says Managing Director Wessel. For two and a half years the film expert has also been developing audio formats for her customers. "Complicated content can be conveyed well with podcasts," she explains, "podcasts are not technically complex. The challenge lies in the conception. You have no fonts, no colours, no images. You have to think outside the box to get the message across. Since June 2018, the Berliner has also been on the air with her own podcast: in "Ideen bewegen" (Moving Ideas) she talks to inspiring personalities about their approaches for a better future.
Competition between platforms
Whether conversation and interview formats, narrated series or news: the number of formats and portals is increasing daily. From 2018 to 2019 alone, the number of podcast offerings on iTunes increased according to TechCrunch by 27 per cent to 700,000 podcasts and 28 million episodes. The media giants Apple, Google and Spotify are also increasingly focusing on podcasts and investing a lot of money in exclusive contents. Spotify invested over 500 million US dollars in 2019. Things are similarly exciting on the German market: in 2019, the Danish-German platform Podimo took over the competitor BesserFM, a podcast magazine based in Berlin and San Francisco, and wants to become the "Netflix of podcasts" in the future.
"Dependence on US platforms must be avoided at all costs," says Mona Rübsamen, managing partner of the FluxFM and FluxMusic broadcasting network, taking a critical view of the development; ""compete on content and cooperate on technology" is the motto. We would like to convince other radio broadcasters of this as well." Two years ago, together with her FluxFM founder partner Markus Kühn, she therefore launched the cloud-based technical platform "radiosphere.io". AAs a "digital solution for media producers", it offers user qualification and targeting for advertising, subscriptions and good front-ends "that can compete with YouTube and the streaming services," says Kühn.
Originally, the technology was developed for the "FluxMusic - Next Level Radio" app, on which over 40 digital channels, on-demand broadcasts and the podcasts from FluxFM can be listened to. Today, three other Berlin radio stations are already using the technology. "Numerous others in southern Germany will follow, who will also make their podcasts available via this technology," says Rübsamen happily. FluxFM is one step further: "We are experimenting with the provision of exclusive audio features for on-demand audio use within our app," explains the communications manager, because "our goal is to convert our listeners digitally and thus make them addressable. The provision of our podcasts on other platforms such as iTunes, Spotify and Co. are teasers for our program and our app."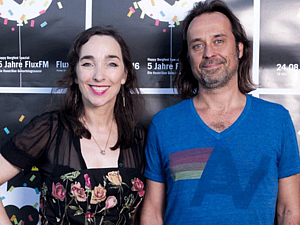 Mona Rübsamen and Markus Kühn © FluxFM
Podcast providers in Germany also rely on cooperation in other forms. While the Reuters Institute is aware of an international "competition" between publishers with platforms and service providers, these are making common cause here in Germany: initiated by a multitude of providers and producers from the radio, audio book and podcast scene, the best podcast makers in the country will be honoured for the first time at the Deutschen Podcastpreis 2020 on 19 March in Berlin-Kreuzberg.
Podcasts seem to have found their place in the media mix: "The varied podcast offers and the growing number of productions bind new audio target groups. This creates completely new possibilities for audio marketing and is highly interesting for the advertising market," says Oliver Adrian, Managing Director of the co-initiators AS&S Radio. In the USA, advertisers are already investing 670 million dollars per year to appear in podcasts. By 2021, the one billion dollar mark will be broken through. Also in Germany, increasing usage figures and progress in targeting are driving monetization: PWC estimated annual turnover on the local podcast market at 71 million euro in 2019 and expects this figure to rise to 156 million euro by 2023.
The Berlin start-up Blinkist, which has been offering summaries of non-fiction books on a paid app since 2012, is also producing its own podcast with "Simplify" In six episodes, six authors show six simple ways to change their lives for the better. "There were several reasons for using Simplify," explains Holger Seim, co-founder and CEO, "on the one hand, we wanted to use the podcast boom to draw attention to our brand in the podcast channels. In addition, Simplify allowed us to build stronger relationships with authors, experiment a little more easily with new content formats and at the same time give our users deeper insights into various topics."
The fact that Blinkist has been relying on audio since 2014 is certainly an advantage: the core statements of the non-fiction books can be read or listened to in 15 minutes. "65 per cent of our users now prefer the audio titles," Seim knows. The podcast was also so well received by the current three million users in Germany, Austria, Switzerland, the USA and Great Britain that other formats are to follow. "One of these can be seen in our English-language app since last week: "2 Minutes with Seth Godin", a kind of micro-podcast in which Seth Godin shares an insight twice a week for two minutes each," explains the Berliner. Another podcast is to follow in a few weeks. One thing is clear: there are still a lot of exciting things to hear from Berlin!
With the "Deep Dive" series Projekt Zukunft regularly gives an insight into current technologies in the digital, media and creative industries and provides information about actors, trends and applications from Berlin.
Contact
Tanja Mühlhans
Leitung Kreativ- und Medienwirtschaft, Digitalwirtschaft, Projekt Zukunft
Email