Deep Dive #7: Wearables in Berlin
Whether smart watch, patches for blood glucose monitoring or shoes with an integrated pedometer: the potential of wearables for lifestyle, health and industry is enormous. In Berlin, the Senate Department is working with science, start-ups and networks to bring portable electronics into everyday life.
Every day they count our steps, measure our pulse and even follow us into the land of dreams - fitness bands are now standard accessories on the wrist. But who owns a sweater that uses a chip in the washing machine to indicate the temperature at which it should be washed? Even a bikini that warns against too much sunlight sounds like a sci-fi film to most people. These are just two examples of portable electronics that are already in use or under development today.
Growth due to smart watches
At the interface of textiles/accessories/electronic data management, numerous new products are emerging which are bringing the Internet of Things to the bodies of people. Although these smart shoes, intelligent wristbands, smart watches and glasses or wearable cameras still have a niche existence, this could soon change: from 2014 to 2015 the market increased sixfold and was thus one of the fastest growing Internet of Things segments. Accordingly, experts forecast immense potential for wearables applications. Gartner Inc. expects a worldwide volume of 225 billion US dollars in 2019 and an increase of 25.8 per cent on the previous year. Consumers are expected to spend 42 billion dollars on wearable devices. By 2021, they even assume sales growth of 62.6 per cent on the global market. The driving force will be so-called in-ear devices (hearables), but above all smart watches. CCS Insight also confirms the growing importance of smart watches. The consulting firm predicts a doubling of sales of wearables by 2022 and a market volume of 27 billion dollars. On the other hand, the "Worldwide Quarterly Wearable Device Tracker Report" of the International Data Corporation (IDC) speaks of an estimated 222.3 million units sold in 2021. This corresponds to an annual growth rate of 18.4 per cent. Even if the estimated figures vary, the potential of portable electronics itself seems undisputed among experts./p>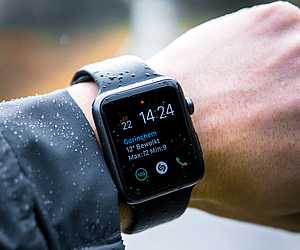 © Unsplash
Innovative technologies – innovative fields of application
Wearables have long since expanded beyond their classical fields of application such as the measurement of biovital data and motion parameters. Thanks to new materials and the further development of existing process technologies they have added versatile functions. "Tomorrow's wearables will be more versatile and multifunctional in terms of health and fitness, communication and efficiency," says Ramon T. Llamas, Research Manager at IDC. "Customers can also expect a much wider range of devices in the future. These will not necessarily replace the wearables we already use today, but rather other products which we use regularly. Conventional earphones will be replaced by smart ear wear, which will feature fitness tracking, enhanced audio functionality or even personal assistants. Smart clothing - the epitome of a wearable - with integrated fitness tracking is becoming more and more interesting, especially for professional athletes." Mass printed electronic components in smart clothing are already more stable today than ever: they are resistant to sweat, moisture and constant stretching during wear. The portable electronics even survive numerous washing machine cycles undamaged. At the same time, the printed parts are lightweight, thin and flexible, so there is room for them even in the tightest sports bra.
Doctor assistants up close
The fact that sensors, displays and mobile radios are becoming increasingly tiny, while at the same time running with low power consumption and heat dissipation, also makes wearables interesting for medicine (smart medicine). For example, a surveillance patch can help at-risk patients detect an irregular heartbeat and alert caregivers before atrial fibrillation and thus blood clots, stroke or other heart-related complications occur. Similarly, continuous blood glucose monitoring could support diabetes management, and the "Embrace" smart watch from "Empatica" in Cambridge uses sensors and machine learning technologies to detect the brief drop in the skin's electrical resistance and sound an alarm if its wearer suffers an epileptic seizure. With 100% success, as demonstrated in a clinical study in early 2018. In view of such positive results, it is hardly surprising that innovations in the field of digital health technology are being tinkered with in various countries around the world. While the US Food and Drug Administration (FDA) has been promoting digital innovations in the healthcare sector for years, the European market for medical wearables is only just starting out. The Sendoc" project, which is investigating the use of portable sensors in ageing population groups in remote areas, is promising. In particular, the sensors measure mobility, strength and balance to support independent living in rural areas. According to Global Market Insights, turnover of almost 64 billion US dollars will be achieved worldwide with medical IoT devices by 2023. It should not fail because of the technology. Even today, wearables can put meaningful data into the hands of patients and healthcare providers. However, it is precisely in this country that regulations, infrastructures and workflows in hospitals prevent portable doctor assistants from being widely used.
Smart wearables also have great, partly untapped potential in industry. Portable electronics increase the productivity and knowledge of their users, enable access to unlimited amounts of data and are a connecting element in network systems, according to a study by "Frost & Sullivan" as early as 2017. Pioneers such as the automobile manufacturer BMW can confirm this: the smart "ProGlove" glove at the conveyor saves 4000 minutes of working time a day and revolutionizes all production processes in the twinkling of an eye. In view of such results, it is hardly surprising that 55 per cent of all companies which already use wearables want to expand their use. This is reported by Zebra Technologies in its "Manufacturing Vision Study 2017". A further 50 per cent of the surveyed manufacturing companies also plan to introduce portable electronics by 2022. Particularly popular are data glasses which display information directly in the employee's field of vision and at the same time keep both hands free for efficient completion of other tasks. According to a study conducted by Toshiba in 2018, 25 per cent of the persons surveyed in the production sector consider the introduction of these smart glasses in their company to be probable within the next year, 47 per cent expect their implementation within the next one to two years. However, the high investment costs and limited support of existing platforms still prevent the mass acceptance of portable electronics in the industrial sector, concludes Frost & Sullivan.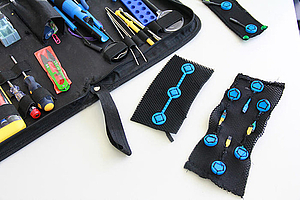 © Ghost.Feel It
Innovation Hub Berlin
Above all, however, mass use fails due to the lack of interdisciplinary cooperation between the textile and electrical industries, a group of designers in Berlin concluded in 2013 and took action to build this bridge. In the following year, the "Wear It" Festival took place for the first time. Today, the two-day event, which celebrated its fifth anniversary in the summer of 2019, is considered Europe's most important conference in the wearables sector alongside the Fashion Tech Conference as part of Berlin Fashion Week. Dozens of experts from all over the world as well as around 500 trade visitors from the scene discuss various aspects of the new market segment, give insights into successful strategies and present innovative materials and components. In addition, research institutes present their latest results from relevant studies. "European and German companies have the opportunity to participate in the new challenges at the interface between design and technology and to integrate individual technologies into prototypes and products," says the Wear It website. The advantages of Berlin as a location are clear. After all, hardly any other city represents the strengths of the European region as well as the German capital: "This includes the large and above all diverse designer community, which pursues both traditional and disruptive approaches," say the experts from Wear It and refer to "the interdisciplinary research landscape with pronounced know-how in the fields of electronics and textiles and numerous start-ups and young companies in software/app development - 31 percent of German start-ups are located in Berlin."
More than 50 companies in the federal capital deal with smart wearables. At the "VOJD-Studios" accessories and luxury jewellery are created using 3D printing, "Lofelt" puts the subwoofer on the wrist, and Newsenselab collects body and weather data via portable electronics in order to feed it into the "M-Sense" app and to later detect possible migraine attacks at an early stage and reduce them in the long term. Another promising health weapon is "Ghost.feelit"a soft prosthesis which restores the sensation of touch and temperature to peo¬ple with prostheses and people who have lost the feeling in their arms due to nerve damage. The two co-founders received the "Smart Wearables x Textiles Award". for this inno¬vation in 2017. This is just one of the specific competitions and accelerator programmes with which the Senate Department for Economics, Energy and Public Enterprises wishes to increase the potential of smart wearables applications in Berlin. With all these initiatives, the question of washing temperature will in Berlin soon be just as much a thing of the past as sunburn. Sweaters and bikinis know what's going on.
With the "Deep Dive" series Projekt Zukunft regularly gives an insight into current technologies in the digital, media and creative industries and provides information about actors, trends and applications from Berlin.
Contact
Tanja Mühlhans
Leitung Kreativ- und Medienwirtschaft, Digitalwirtschaft, Projekt Zukunft
Email