Deep Dive #5: Blockchain in Berlin
Some rave that it is as revolutionary as the invention of the Internet. Others suppose that it will change our society and economy. Germany's companies agree: every seventh company (15 per cent) has a high opinion of Blockchain. In the case of large companies with 500 or more employees, as many as every third (36 per cent) agrees with this statement. This is the impressive result of a representative survey of 1,004 companies with 50 or more employees commissioned by the digital association"Bitkom". This was carried out as part of the study "Blockchain in Deutschland - Einsatz, Potenziale, Herausforderungen" (Blockchain in Germany - Use, Potentials, Challenges)" d), which was published on 11 April 2019.
According to 70 per cent of the respondents, the greatest hope is the use of decentralized trading platforms or financial transaction systems. This comes as no surprise, as Blockchain has long been equated with the cryptocurrency Bitcoin, which was developed in 2008/2009 under the pseudonym "Satoshi Nakamoto" and introduced to the world. In the meantime, however, Blockchain has emancipated itself from these financial transactions as an algorithm behind Bitcoin and thus as a technological approach. The positive effects this can have on business models of companies or processes in public administration are demonstrated not only by various pilot projects worldwide - in the decentralized organization of electricity trading, in the insurance environment for travel cancellation insurance or in customer loyalty programmes. According to the Bitkom study, German companies also recognise the great potential: for around two thirds (63 per cent), this lies in making the activities of all partners in a value chain comprehensible and thus determining, for example, whether an original spare part really has been ordered or whether the meat in the supermarket does actually come from an organic farm. Roughly also second company also assumes that Blockchain enables the secure and transparent transfer of evidence of ownership rights. For example, a sales contract for a property could be stored in a tamper-proof manner. A notary to seal the contract would then no longer be necessary.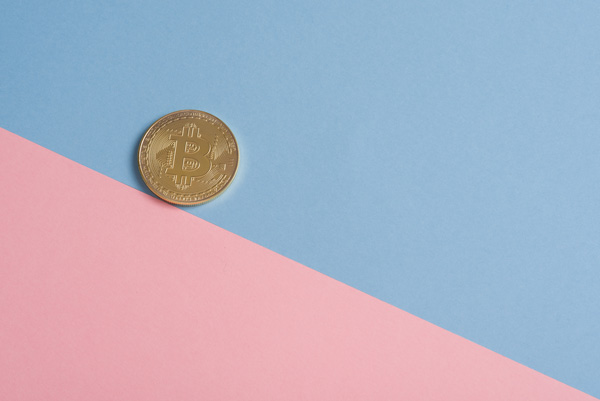 Bitcoin © Unsplash
Exchanging trust for technology
He is not the only one who could become redundant due to blockchain applications. Other central bodies (so-called intermediaries) such as banks which manage our money or the state which certifies documents could also be a thing of the past. "The greatest opportunities for blockchain technology could be seen in designing existing business processes and procedures in such a way that intermediaries, as they are required at the moment, could become dispensable," says the Bitkom study, "that human resources can be made available again for other tasks and mandatory processes can be further automated." This, at least, is the vision of Blockchain. Instead of individual middlemen, women and organisations, to whom all market participants must entrust their information, the participants in a distributed computer network take over the management and storage of digital data records, events and transactions. The latter are combined in individual blocks and inseparably linked to one another via cryptographic processes (digital signatures). New transactions are regularly added to the blockchain. All this is transparent for each participant, which makes it difficult to subsequently falsify data, transactions or transaction partners.
In addition to these classical blockchain technologies there exist various extensions and applications which use the infrastructure. Such decentralized applications, which are based on a blockchain, are called "dApps" (Decentralized Applications) in technical jargon. As browsers or wallets, they enable interaction with a blockchain and provide applications such as trading platforms, social networks or identity management. Bitcoin was nothing other than this. Another decentralized application has arrived with the introduction of the Ethereum blockchain: Smart Contracts are computer programs which are also stored in the blockchain and enable, for example, the automatic execution of if-then relationships. In this way, conditions can be set for a transaction which are performed automatically when fulfilled and help to reduce transaction costs. The fact that this is not pure theory is confirmed by the German companies which are already using Blockchain or planning or at least discussing such a system. Two thirds (65 per cent) emphasize that they can in this way minimize transaction costs. 87 per cent notice an increase in efficiency thanks to blockchain technology.
Pioneering companies in demand
Economic advantages, transparency and high resistance to counterfeiting - in view of these advantages of the blockchain approach, it may come as a surprise that only 17 per cent of all German companies use blockchain. Nine out of ten companies (86 per cent), on the other hand, have not even thought about using blockchain, according to the results of the Bitkom study. There are many reasons for this hesitation. 88 per cent do not know of any practical application; just as many complain about a lack of skilled workers. Legal uncertainty and a lack of standardisation are also cited by 72 and 70 per cent of companies respectively as reasons for doing without blockchain. Data protection and IT security requirements as well as immature technology and high investment costs are further obstacles.
Chance for Germany
However, the hesitation of German companies regarding blockchain technology does not mean that there is a standstill in Germany or that the horse has bolted. On the contrary: according to a study by the "Expert Commission for Research and Innovation" (EFI), almost 50% of German blockchain start-ups are based in Berlin. "According to experts, this concentration of development activity makes Germany, and Berlin in particular, a location of international importance for blockchain technologies," says the 2019 "Report on Research, Innovation and Technological Performance in Germany". In addition to its technological infrastructure, the city on the Spree scores well with other location advantages. "In combination with the low cost of living compared with other technology metropolises and a broad multicultural offer, they attract further start-ups and corporate initiatives which complement the ecosystem," according to the latest study by the Stiftung Neue Verantwortung (New Responsibility Foundation). Bitkom President Achim Berg is also optimistic about developments and explains that "if we set the right course now, Germany can be at the forefront of the development of blockchain solutions."
For a positive development to take place, on the one hand companies are required to focus on blockchain in their in-company further training. On the other hand, technology must become part of training and study programmes. In addition, massive funding for (applied) research is necessary, from which start-ups and small enterprises can also benefit. At the same time, the legal and regulatory framework must be revised and adapted by federal policy. According to the Commission of Experts in its demands on federal policy, clarity must be created particularly in the application of the General Data Protection Regulation, the taxation of cryptocurrencies and the use of blockchain technologies in regulated markets such as the energy industry.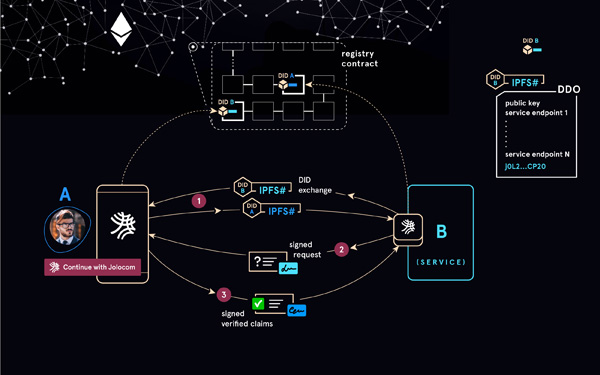 © Jolocom
Berlin: "The most important city in the world"
You don't have to tell the Berlin blockchain scene twice to do it and try it out. While the rest of Germany is still hesitating, the German capital is already right in the middle of the action. And not just since yesterday. As early as 2013, the "Guardian" for the first time honoured the German capital as "Bitcoin Capital of Europe". It still deserves its name today: whether for renting an apartment, booking a holiday or in restaurants such as "Leuchtstoff Kaffeebar" or "Room 77" - the cryptocurrency can almost compete with "real money" when it comes to popularity. Since 2016, even the prestigious European School of Management and Technology (ESMT) has accepted Bitcoin as a payment system.
But the blockchain ecosystem of the city goes far beyond cryptocurrency - meetups like the Blockchain Meetup Berlin and conferences such as the Crypto Conference provide the best evidence for the colourful scene. International corporations such as IBM, Amazon, SAP or Microsoft, which also have their headquarters in Berlin, offer blockchain solutions as software-as-a-service. Also located in Berlin are the crypto pioneer "Ethereum Foundation", the "Energy Web Foundation"", which develops an open blockchain technology for energy markets, and the "Web3 Stiftung"", which deals with the promotion of a decentralized Internet. For its spokeswoman, Ashley Tyson, Berlin is "already the most important city in the world for blockchain development". After all, it is here that the largest concentration of core developers can be found. Bruce Pon, founder of the Blockchain-Datenbank "Bigchain DB",can easily explain why this is the case: "Berlin has a degree of freedom, a willingness to experiment and an incredibly exciting mix of hacker culture, music, art and government institutions that make the city a far more suitable location for the blockchain scene than Zug in Switzerland or Singapore could ever be," the inventor of the "Ocean Protocol", which is intended to facilitate the exchange of data between KIs, reveals to the industry magazine T3N.
Active Start-up scene
The figures seem to prove him right: according to the industry platform chain.de 88 of the 194 German blockchain start-ups are based in Berlin. The local blockchain community BerChain even speaks of "over 100 blockchain startups" and raves about the "most active and living ecosystem in the whole world". Not to forget one of the most diverse: with "Parity" contracts can be processed and checked on the Internet. "Bitwala" on the other hand, describes itself as a "bank account with access to the crypto world" and offers money transfers by blockchain. And "Jolocom" wants to help its customers collect and disseminate information about themselves on the Internet. With this ever-changing and growing diversity, it's easy to lose track of things. To prevent this from happening, BerChain comes onto the scene: the initiative is not only regularly mapping the blockchain ecosystem, but is also networking the heterogeneous Berlin blockchain community via an online platform and events. BerChain also provides advice and support to interested parties who would like to set up a startup.
Let's come back to the comparison between blockchain and the Internet from the beginning. According to the Bitkom study, six of the 14 blockchain experts surveyed located blockchain technology in 2018 at a stage of development which the Internet had reached in the 1990s. At a time, then, when Bill Gates expressed the much-quoted misjudgement in 1993: "The Internet is just a hype". The rest of Germany may still be in the 90s, but Berlin has long since arrived in 2019!