Deep Dive #18: FemTech in Berlin
In 2016, Danish-born entrepreneur, Ida Tin coined the term "FemTech" (short for female technology) to refer to companies that specialise in technological solutions dedicated to women's health. "I thought, what if we had a term that could put them all into one category?" she told Insider. "That felt empowering. But it also seemed this made it easier for investors and the media to find these companies and talk about them." Ida Tin's Berlin-based start-up BioWink is a pioneering company in this sector. BioWink developed the menstrual cycle tracking app "Clue" in 2015. The concept seems to be catching on: There are now over 200 FemTech start-ups and more than 3,000 FemTech apps on the market worldwide. And the technology-driven solutions, (mostly) by women for women, are more popular than ever. Especially among investors. According to a report by Frost & Sullivan, global FemTech venture capital financing and investments totalled $ 1.69 billion in the first half of 2019. This figure is expected to rise to $ 9 billion by 2024.
Today, FemTech addresses more than just women's reproductive health needs. It now includes analogue and digital products for fertility, menstrual tracking, pregnancy, breastfeeding and menopausal symptoms as well as finding solutions for the treatment of diseases that are more prevalent in women (e.g. Alzheimer's, cancer, depression and immune defects) and developing gadgets to improve women's health and (sexual) wellbeing. This is particularly important as some diseases affect women differently or more than men. FemTech also stands for female empowerment: FemTech consciously expresses female concerns and encouragement for women, who make up almost half of the world's population, supports womanhood in all its facets and paves the way for more female talent and managers in the tech industry.
"Clue": 12 million users in over 180 countries
Ida Tin's brainchild "Clue" has seen enormous growth: According to the website, the app developed in Berlin is now being used by over 12 million female users in more than 180 countries to follow their periods. The innovative Dane conceived the idea in 2012 when she started taking the pill and discovered that there were hardly any alternatives to contraception. She wanted to create a solution that was "data-based, not chemistry-based". "Clue" is designed to help women understand their body's rhythm and to know when their next period is due, and whether it's too early or too late. Certain symptoms such as headaches or acne can also be tracked via the app. "Women's health has always been underfunded, under-supported and under-researched," says Tin. That is why "Clue" teamed up with research institutes such as the Kinsey Institute and Stanford University as well as hospitals and conducted studies on women's health from the start: "This is a really important part of our work, and we actually spend a lot of resources on it." Resources that have come together in part through around € 30 million in venture capital. In addition, "Clue" offers some services via paid subscription. The company also plans to launch "Clue Birth Control" - a medical device that promises 92 per cent effectiveness for contraception - in the USA in the near future. For comparison: the pill is 93 per cent effective, condoms are 87 per cent effective.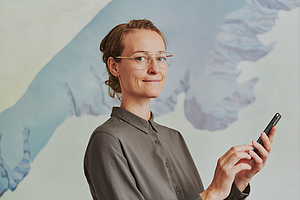 Ida Tin, CEO and co-founder "Clue" © Clue
"inne": Minilab for the home
In the middle of the Coronavirus pandemic, the Berlin-based start-up "inne" launched a new FemTech product for contraception and birth control: the world's first at-home fertility monitoring system. Founder Eirini Rapti and her team of technicians, scientists and designers dedicated three years of intensive research to develop a mini-hormone lab that can be used in any bathroom. To monitor fertility and ovulation, all the female user has to do is simply moisten a test strip for the palm-sized "inne" Reader with saliva for about 30 seconds every day. The device will then measure the progesterone level in the user's saliva - with an accuracy that was previously only possible in a "real" lab: The "inne" Reader can detect deviations of 0.0000000001 grams of progesterone in one millilitre of saliva. Even this tiny amount triggers significant physiological changes such as ovulation.
This allows the "inne" Reader's algorithm to recognise which phase of the cycle the woman is in. The data is then transmitted to the relevant app via Bluetooth or Wi-Fi and evaluated within seven to 15 minutes. The information provided is designed to help women understand their own bodies better. But: "This product is not a tracker. We don't want to collect your data and then tell you next month what you should be feeling," Rapti told TechCrunch. "Instead, it was designed to track your hormones and tell you that this is the most profound change in your body. And as a result of this change, you will feel certain things. Do you feel these things or not - and if not, what does that mean? Or if you do, what does that mean?" Daily progesterone hormone tracking via saliva will inform women about their fertile days - regardless of whether they want to get pregnant or not. In addition to the "inne" Reader, which has been awarded the Red Dot Award: Product Design 2021, the company plans to launch other personalised hormone trackers for home use. "This will enable us to offer even more meaningful insights into women's health," says the founder. "Not only in relation to fertility, but also to focus on other important female health issues in the future. For example, issues such as endometriosis, PCOS and menopause, as well as optimising diet and exercise in order to ensure the required hormonal balance."
"FEMNA": New, holistic approach to women's health
Fertility solutions and reproductive healthcare are by no means the only things that FemTech companies are concerned with today. "We would like to become the contact point for women in Germany who want a new and holistic approach to their women's issues," says Maxie Matthiessen, who aims to make this idea a reality with her platform "FEMNA" (short for femme naturelle, or natural woman). The Berliner believes that more attention should be given to women's needs in medical research, which is why "FEMNA" offers a range of services that address the current needs of women: the hormone test, for example, takes into account the cycle window, and the test for sexually transmitted diseases is also tailored to women. "We also focus on educating people and raise awareness," adds Matthiessen, who, prior to "FEMNA", founded Ruby Cup, one of the first start-ups for menstrual cups. "The latter is somewhat neglected in Germany. The average treatment time in this country is seven minutes - including undressing and dressing. There is not much time for questions and a detailed anamnesis." The telemedicine platform launched in 2016 is designed to meet this need by joining forces with doctors and naturopaths who are specially trained in holistic women's health. This means that the customer is not left alone with her test results, but can receive advice on various treatment options - regardless of time or location. "I believe that "FEMNA" is a pioneer in the medical industry," says Matthiessen. In the future, she hopes to tackle the issue of gender medicine and women-specific counselling "with institutions such as the Charité, also scientifically, so that women in medicine can have a greater voice and are better represented."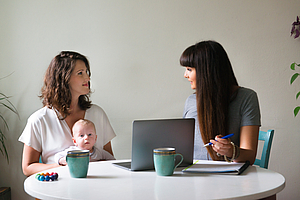 Maxie Matthiessen, founder (l.) and Emily Casey, business associate (r.) "FEMNA" © FEMNA
Berlin in women's hands?
Maxi Matthiessen's goal of enhancing the voice and a better standing of women in medicine is also becoming increasingly relevant in business. "I have been working in the start-up scene since 2011," says the series founder. "The development and perception of FemTech has changed fundamentally since then. Back then, establishing a company that specialised in menstrual products and services was taboo and it was very difficult to obtain funding from investors. In the meantime, the topic has largely become mainstream." Role models like Matthiessen and Ida Tin have made a valuable contribution to this progress. The women also find strength among each other. "We founders in the FemTech sector support one another and most of us know each other," explains Matthiessen, "I also received support from Venture Ladies, where we exchange ideas about financing issues. We women can also network in the Female Founder Coworking Spaces."
There is no shortage of opportunities to network and establish a presence in Berlin: Berlin Geekettes, the FEMTEC career platform, the International Women's Connection network,WeHubs and Womenize! are just a few of the over 170 initiatives in the capital dedicated to supporting women in the digital, media and creative sectors. The Berlin Women Entrepreneurs of the Year Award launched in 2004 honours women who act as role models for female entrepreneurship. In addition, the incubation funding programme Berliner Startup Stipendium will have a Women in Tech focus for the first time in 2021. "Despite this, only 15.7 per cent of start-ups in Germany were founded by women. Women founders receive significantly less start-up capital than men and access to venture capital and business angels is more difficult," writes Ramona Pop, Senator for Economics, Energy and Public Enterprises in the report "Berlin: Women Empowerment" 2021.
According to the Boston Consulting Group, in 2018 start-ups founded by women achieved more than double the revenue per euro invested in them compared to companies founded by their male counterparts. As early as 2013, a report by the Federal Ministry of Economics and Technology stated that the socio-economic conditions for female founders correlate directly with economic growth: an increase in female founders could result in a four per cent rise in economic growth.
Berlin, the sex tech Silicon Valley?
This requires start-ups not only in the health sector. The term FemTech is now increasingly used for other fields in which female entrepreneurs, developers and programmers are blazing technological trails. They include the successful Berlin-based start-ups FinMarie and Madame Moneypenny, that are helping women achieve financial independence. The Modality Group has dedicated itself to another important area: "In 2017, I was at an Asia Adult Expo in Hong Kong when I noticed that the majority of the buyers were white men," says Lex Gillon, one of the three founders. "That is problematic, because they buy products that are designed for vulvas and vaginal penetration and decide for population groups to which they do not belong."
Studies and data have the potential to show the needs of different target groups and thereby bring completely new types of sensory experiences to the market. And this is exactly the task that Lex and her team of eight have dedicated themselves to. "Our research empowers women-owned companies, as does the third wave, which is about diversity and inclusion in the sex business," says the Berlin-based entrepreneur, whose customers are mainly in the USA and the United Kingdom. "We have, for example, conducted research into the demand for an LGBTQIA sex product in the USA and delve equally deep into the needs of trans men, non-binary people and lesbian women." The decision to choose Berlin as the location to set up the Modality Group was a coincidence. "Life brought me here and it turned out to be the perfect place," says Gillon. It lies in a time zone, which enables communication with Europe, the Asia-Pacific region and North America "without sacrificing sleep". "Berlin also has a rich sexual history, and Germany in general has a number of big players in the sexual wellness industry," enthuses the start-up's CEO. "Being in this community gives Modality access to some of the major stakeholders in this sector. Maybe Berlin will become the sex tech Silicon Valley?"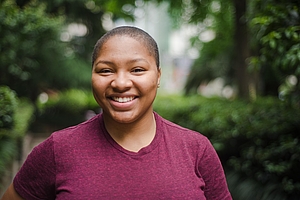 Lex Gillon, CEO and co-founder Modality Group © Modality Group
Anyone who talks about the big - and established companies - in the industry cannot ignore AMORELIE: Lea-Sophie Cramer and her then-partner Sebastian Pollok founded the "lifestyle start-up that enhances people's love life" back in 2013. The "Mini Dolphin" vibrator from Fun Factory was the first product to be offered over the offline counter. Shortly afterwards, the team decided to put the products on the website. "We went completely digital when most companies didn't," said Cramer in an interview for Forbes' 30 Under 30 list in 2016. "People wanted to order products quickly from the comfort of their home instead of in a strange shop next to a train station." Another clever decision was to create individual boxes for different occasions and needs. These are still a distinguishing feature of AMORELIE. But apart from that, a lot has changed: The company is now 98 per cent owned by the ProSieben Group, has around 130 employees and the brand is now present in 15 countries, Cramer told OMR. The company now generate sales in the double-digit million range through online mail order, B2B business, DM and Bipa, e-commerce marketplaces such as Amazon and "AMORELIE toy parties", which are organised by special consultants. At the turn of the year 2019/2020, the founder handed over the management of the company and now wants to focus more on promoting young female founders. A goal with which she encountered open ears and doors in Berlin. Not just from women.
FemTech goes analogue
Apart from screens, apps and websites, some FemHealth products from Berlin gaining traction have shown that the term does not only apply to products and services that contain a digital component. More and more companies are gaining a foothold in the fashion industry, deconstructing tried and tested items of clothing and making them more suitable for everyday use for women. One such company is ooia, which offers sustainable menstrual underwear. The underwear features an integrated membrane system, which means women no longer have to resort to disposable products during their period and will receive adequate protection even during sports, at work and at night. The two founders Kati Ernst and Kristine Zeller want ooia to dispel the taboos surrounding menstruation, but would also like to prove that women can hold management positions as mothers and pursue a flexible lifestyle at the same time. KORA MIKINO (translates as girlfriend), a start-up founded in Berlin in 2018, also develops menstrual panties by women for women. Whether required for menstruation, bladder weakness or in puerperium, this underwear is designed to make everyday life easier for women in all phases of life. branayama also produces sustainable, innovative lingerie. Founder Stefanie Raffelsieper's practical, comfortable and high-quality nursing bras are designed to boost slow fashion in the fashion industry. But that's not all. A look at the company website reveals the actual mission behind branayama: "We believe in innovation and that it is always possible to improve things. Most of all, we believe that women don't have to compromise when they become mothers, or at all. Women deserve to be celebrated in their diversity and to stand in their full splendour and all their power - at all times."
FemTech companies have long realised where women's health needs lie: in everyday life. Their developments are no longer considered niche products, but are relevant for a large part of society. And FemTech now encompasses more than one specific category of health products for women; FemTech has become a movement that demands a greater voice and self-determination from the female gender, and opens the male-dominated tech job market to women.
In the Deep Dive series, Projekt Zukunft regularly gives insights into current technologies in the digital, media and creative sectors and provides information on actors, trends and applications from Berlin.
[Translate to Englisch:]
"inne": Mini-Labor fürs Zuhause
Mitten in der Corona-Krise kam ein weiteres FemTech-Produkt in Berlin auf den Markt, das sich dem Thema Verhütung und Geburtenkontrolle widmet: Das "Fruchtbarkeitsüberwachungssystem" "inne". Gründerin Eirini Rapti und ihr Team aus Techniker*innen, Wissenschaftler*innen und Designer*innen haben in drei Jahren intensiver Forschung ein Mini-Hormon-Labor fürs Badezimmer entwickelt. Dafür muss frau täglich einen Teststreifen etwa 30 Sekunden mit Speichel befeuchten. Anhand dessen liest das handflächengroße Gerät den Progesteronspiegel aus – und das mit einer Genauigkeit, die bisher nur im "echten" Labor möglich war: In einem Milliliter Speichel kann "inne" Abweichungen von 0.0000000001 Gram Progesteron erkennen. Schon diese winzige Menge löst erhebliche physiologische Veränderungen wie den Eisprung aus. So kann der individuelle Algorithmus von "inne" erkennen, in welcher Phase des Zyklus sich die Frau befindet. Die Daten werden dann via Bluetooth oder Wi-Fi an die dazugehörige App übermittelt und innerhalb von sieben bis 15 Minuten ausgewertet. Die Informationen sollen Frauen helfen, den eigenen Körper besser zu verstehen. Aber: "Dieses Produkt ist kein Tracker. Wir möchten Ihre Daten nicht sammeln und Ihnen dann nächsten Monat sagen, was Sie fühlen sollten", präzisiert Rapti gegenüber TechCrunch. "Es wurde eher entwickelt, um Ihre Hormone zu verfolgen und Ihnen zu sagen, dass dies die grundlegendste Veränderung in Ihrem Körper ist. Aufgrund dieser Veränderungen werden Sie bestimmte Dinge spüren. Fühlen Sie sie oder nicht – und wenn nicht, was bedeutet das? Oder wenn Sie es tun, was bedeutet das?" Durch tägliches Progesteron-Hormontracking über den Speichel soll frau um ihre fruchtbaren Tage Bescheid wissen – egal, ob sie schwanger werden möchte, oder nicht. Zusätzlich zum bestehenden Produkt, für dessen Entwicklung die Frauen unter anderem mit dem Red Dot Award: Product Design 2021 ausgezeichnet wurden, sollen weitere personalisierte Hormontracker für zu Hause auf den Markt kommen. "Damit wir noch mehr aussagekräftige Einblicke in weibliche Gesundheitsthemen bieten können", meint die Gründerin, "nicht nur in Bezug auf Fruchtbarkeit, sondern in Zukunft auch noch fokussierter auf andere wichtige weibliche Gesundheitsthemen. Beispielsweise Themen wie Endometriose, PCOS, die Wechseljahre oder die Optimierung von Ernährung und Bewegung, um den Hormonhaushalt auszugleichen."
"FEMNA": Neuer, ganzheitlicher Ansatz für Frauenprobleme
[Translate to Englisch:]
Berlin in Frauenhänden?
Mehr Gehör und ein besseres Standing der Frauen, woran Maxi Matthiessen in der Medizin arbeitet, das rückt auch in der Wirtschaft verstärkt ins Zentrum. "Seit 2011 bin ich in der Gründerszene aktiv", meint die Seriengründerin, "die Entwicklung und Auffassung von FemTech hat sich seither grundlegend geändert. Damals war eine Gründung in dem Bereich der Periode ein Tabu und es war sehr schwer, an Investorengelder ranzukommen. Inzwischen ist das Thema weitgehend im Mainstream angekommen." Vorbilder wie Matthiessen oder Ida Tin haben dazu einen wertvollen Beitrag geleistet. Stärkung finden die Frauen auch untereinander. "Wir Gründerinnen im FemTech-Bereich unterstützen uns gegenseitig und die meisten von uns kennen sich untereinander.", erklärt Matthiessen, "auch bei den Venture Ladies habe ich Unterstützung erfahren. Dort tauschen wir uns über Finanzierungsfragen aus. Auch in den Female Founder Coworking Spaces können wir Frauen uns vernetzen." An Möglichkeiten, sichtbar zu werden und sich zu verbinden, mangelt es in Berlin nicht mehr: Ob Berlin Geekettes, die Karriereplattform FEMTEC, das Netzwerk International Women's Connection, WeHubs oder Womenize! – über 170 Initiativen engagieren sich in der Bundeshauptstadt dafür, Frauen in der Digital-, Medien- und Kreativwirtschaft zu unterstützen. Mit der Auszeichnung "Berliner Unternehmerinnen des Jahres" werden seit 2004 engagierte Frauen gewürdigt, die als Vorbild für weibliches Unternehmertum agieren. Auch das Inkubationsförderprogramm "Berliner Startup Stipendium" legt im Jahr 2021 zum ersten Mal einen Fokus auf "Women in Tech". "Dennoch werden bundesweit nur 15,7 Prozent (!) der Startups in Deutschland von Frauen gegründet. Gründerinnen erhalten deutlich weniger Startkapital als Männer und der Zugang zu Venture Capital und Business Angels ist schwieriger", schreibt Ramona Pop, Senatorin für Wirtschaft, Energie und Betriebe in der Bestandsaufnahme "Berlin: Women Empowerment" 2021. Dabei erzielen Startups von Gründerinnen laut Boston Consulting Group 2018 mehr als doppelt so hohe Umsätze pro in sie investiertem Euro, als die Unternehmen ihrer männlichen Kollegen. Bereits 2013 führte das Bundesministerium für Wirtschaft und Technologie in einem Bericht aus, dass die sozioökonomischen Rahmenbedingungen für Gründerinnen direkt mit dem Wirtschaftswachstum korrelieren: Mit mehr Gründerinnen wären vier Prozent Wirtschaftswachstum mehr möglich.
Berlin, das sexuelle Silicon Valley?
Dafür braucht es nicht nur Gründungen in der Gesundheitsbranche. Der Begriff FemTech wird immer öfter auch für andere Bereiche verwendet, in denen Unternehmerinnen, Entwicklerinnen oder Programmiererinnen technologischen Fortschritt machen. So werden auch die Berliner Erfolgsstartups FinMarie oder Madame Moneypenny dazu gezählt, die Frauen auf dem Weg zur finanziellen Unabhängigkeit helfen. Einem anderen wichtigen Bereich hat sich die Modality Group verschrieben: "Als ich 2017 bei einer Asia Adult Expo in Hong Kong war, fiel mir auf, dass die Mehrheit der Käufer weiße Männer waren", erzählt Lex Gillon, eine der drei Gründerinnen. "Das ist problematisch, denn sie kaufen Produkte, die für Vulvas und vaginale Penetration designt sind und entscheiden für Bevölkerungsgruppen, denen sie gar nicht angehören." Studien und Daten hätten das Potenzial, den Bedarf verschiedener Zielgruppen zu zeigen und dadurch ganz neue Arten von sinnlichen Erfahrungen auf den Markt zu bringen. Genau das ist die Aufgabe, der sich Lex und ihr inzwischen achtköpfiges Team verschrieben haben. "Unsere Untersuchungen ermächtigen dabei Unternehmen in Frauenhand genauso, wie die dritte Welle, bei der es um Diversität und Inklusion im Sex Business geht", so die Wahl-Berlinerin, deren Kunden vor allem in den USA und in Großbritannien sitzen. "Wir haben zum Beispiel auch Untersuchungen für den Bedarf an einem LGBTQIA-Sexprodukt in den USA durchgeführt und tauchen gleichermaßen tief in die Bedürfnisse von Trans-Männern, Non-Binary-Menschen und lesbischen Frauen ein." Dass die Modality Group ihre Basis in Berlin hat, war übrigens Zufall. "Das Leben hat mich hierher geführt, und es hat sich als der perfekte Ort herausgestellt", meint Gillon. Das liegt nicht nur an der Zeitzone, die Kommunizieren mit Europa, den Asia-Pazifik-Region und Nordamerika ermöglicht, "ohne Schlaf opfern zu müssen". "Berlin hat eine reiche sexuelle Geschichte, und Deutschland hat generell ein paar große Player in der sexuellen Wellness-Industrie", schwärmt die Geschäftsführerin des Startups, "in dieser Community zu sein, gibt Modality Zugang zu einigen Größen in dem Bereich. Vielleicht wird Berlin ja zum sexuellen Silicon Valley?"
[Translate to Englisch:]
FemTech ganz analog
Auch abseits von Screens, Apps und Websites bekommen Berliner FemHealth-Produkte viel Aufmerksamkeit und beweisen, dass der Begriff keine digitale Komponente beinhalten muss. Immer mehr Unternehmen fassen Fuß in der Mode- und Designbranche, erweitern alt bewährte Kleidungsstücke und machen diese alltagstauglicher für die Frauenwelt. So auch das Unternehmen ooia, das Periodenunterwäsche im Sinne der Nachhaltigkeit anbietet. Dank eines integrierten Membransystems muss frau während der Periode nicht mehr auf Wegwerfprodukte zurückgreifen und erhält auch beim Sport, auf Arbeit oder nachts ausreichend Schutz mithilfe der speziellen Unterwäsche. Die beiden Gründerinnen Kati Ernst und Kristine Zeller möchten mit ooia nicht nur das Thema Periode enttabuisieren, sondern auch als Mehrfachmütter beweisen, dass Führungspositionen von Frauen und mit viel Flexibilität bekleidet werden können. Das 2018 gegründete Berliner Startups KORA MIKINO (übersetzt Freundin) entwickelt ebenfalls Panties-Produkte von Frauen für Frauen. Ob während der Menstruation, bei Blasenschwäche oder im Wochenbett – diese Unterwäsche soll Frauen in den unterschiedlichsten Lebensphasen den Alltag erleichtern. Auch branayama produziert nachhaltige, innovative Wäsche. Mit ihren praktischen, bequemen und hochwertig produzierten Still-BHs will die Gründerin Stefanie Raffelsieper Slow Fashion in der Modeindustrie stärken. Doch damit nicht genug, ein Blick auf die Unternehmensseite offenbart die eigentliche Mission hinter branayama: "Wir glauben an Innovation und dass es immer möglich ist, Dinge zu verbessern. Vor allem aber glauben wir daran, dass Frauen keine Kompromisse machen müssen, wenn sie Mütter werden oder überhaupt. Frauen verdienen es in ihrer Vielfältigkeit zelebriert zu werden und in ihrem vollen Glanz und ihrer ganzen Power zu stehen – jederzeit."
FemTech-Unternehmen sind heute längst dort angekommen, wo Frauen tagtäglich präsent sind: im Alltag. Ihre Entwicklungen repräsentieren keine Nischenprodukte mehr, sondern sind für einen großen Teil der Gesellschaft relevant. Und FemTech umfasst inzwischen mehr als eine spezielle Kategorie mit Gesundheitsprodukten für Frauen; FemTech ist zu einer Bewegung geworden, die mehr Präsenz, Aufmerksamkeit und Selbstbestimmung des weiblichen Geschlechts einfordert und den von Männern dominierten Tech-Arbeitsmarkt für Frauen öffnet.
In der Themenreihe "Deep Dive" gibt Projekt Zukunft regelmäßig Einblicke in aktuelle Technologien der Digital-, Medien- und Kreativwirtschaft und informiert über Akteure, Trends und Anwendungen aus Berlin.
Contact
Stephanie Feser
Designwirtschaft, Kunstmarkt und Women Empowerment
Email