All they want to do is play - The Berlin Music Business
Berlin is a city of music: There is no other place in Germany where so many musicians from all over the world create, play and sell music. No style of music that is not represented here from electric music via Rock and Pop right up to world music, from HipHop to Jazz. The music scene in Berlin is diverse, lively and at the same time internationally successful.
During the past few years, Berlin has even established itself as the capital of music in Germany due to many large companies having settled here, a creative middle class music scene, a multi-facetted club culture, hundreds of performances and concert each day of the week, 365 days a year and events with international flair.
Berlin has become a melting pot for international musicians and professional studios turning the city into an ideal location for productions.
More than 500 enterprises from all areas of the music production and utilisation offer their services.
In addition to the labels in Berlin there are 159 music publishers, mainly for entertainment music.
There are more than 126 recording studios and several composers as well as 77 concert organisers in Berlin. Apart from Universal Music and BMG Rights Management many small labels, publishers and distributors have settled in the city.
Berlin is home to altogether about 1450 enterprises from the music business.
What associations and networks are part of the Berlin music industry?
Within the scope of the music business initiative of the Senate Administration for Economy, Energy and Business, enterprises are supported since 2002 with - amongst others - infrastructural projects, international congresses and events, further training measures, extending the promotion for music - e.g. micro loans and coaching offers - as well as studies and analyses.
Upon request from the Senate Administration for Economy, Energy and Business, the networks Berlin Music Commission and Clubcommission Berlin have worked on new innovative projects and measures for sustainably developing the location of the Berlin music business since 2015.
This includes the following conferences and events:
The Hybrid Music Lab connects and links the music- and tech scene
Stadt nach Acht(City after Eight) is a platform to discuss an attractive and sustainable night life on an international level with all its conflicts and advantages for a major city such as Berlin
Most Wanted Music: The music's target is to promote practical know-how, link players with each other and encourage them to promote an exchange as well as to develop new solution models for the industry.
CreAid Network: CreAid Network Berlin is an interface between refugee musicians and the Berlin music business. The CreAid Network Berlin office records and bundles the numerous campaigns and supporting measures of Berlin's music industry for refugees.
Measures for professionalism
Internationalisation Programme Cockpit
Beginning of 2013 the Berlin Senate established the Musicboard. It is the task of the Musicboard to support the pop music scene in town and to strengthen its cultural and economic prominence. Therefore the Musicboard works closely together with Berlin's music enterprises and promotes cooperation projects or makes these available, grants scholarships, intervenes in case of problems and improves the infrastructure. All this in addition to an improved cooperation with the music industry and a close cooperation with the Berlin pop music scene, the Berlin music networks, administration and economy. The Musicboard is a unique setup across the country and its intention is to promote pop music in a new and ingenious way and to keep the discourse with the pop culture alive in Berlin. Since 2015 the Musicboard has staged the international Festival Pop-Kultur annually in August.
Which are the music enterprises in Berlin?
Eleven per cent of music enterprises in Germany are located in Berlin. This includes enterprises with a high turnover in this industry:
Apart from publishers such as Budde Musikverlag and Meisel, there are more than 126 recording studios and countless composers and producers living in the city. The Berlin labels of national and international fame include Motor Music, Piranha, Embassy of Music, K7, Get Physical, Traumton and many more. Berlin is considered to be the city of electronic sound.
How is the music business promoted in Berlin?
Renowned conservatories and universities such as the 'Hochschule für Musik "Hanns Eisler"' and the Universität der Künste are part of the capital as are umbrella organisations, such as the Bundesverband Musikindustrie, GEMA, GVL and GVU, and important networks such as the VUT, Club Commission Berlin, the Label Commission and the Berlin Music Commission.
Which music events take place in Berlin?
The image of the capital of music is shaped by many independent music labels, about 159 music publishers, internationally renowned orchestras such as the Berliner Philharmoniker as well as the club landscape and festivals:
With its more than 250 event locations and more than 77 concert organisers, Berlin is the city with the most lively concert- and event life in Germany with special musical highlights in the areas of classical music but also in respect of electronic music, HipHop, and Jazz. Berlin has the most diverse offer of concerts in Germany and a multifaceted club culture.
Berlin as trendsetter within the music business
For the music industry, the city is not only interesting as a location due to its high sales figures and a pool of qualified workers. The physical proximity to clubs and music events enables music enterprises to pick up trends almost at once. Having contact to the scene makes it easier to discover and market new artists. 'Face to Face' contacts still play an elementary role in the music industry despite the internet. Tacit knowledge enables access to the scenes via codes, which in turn stand for authenticity and 'street credibility'.
Last but not least Berlin's music industry is characterised by a distinct linking of value-added stages, also linking with other creative sections as well as a strong international orientation.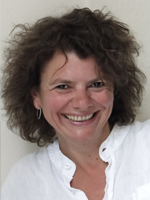 Nadja Clarus
Music Industry
Email