Deep Dive #16: Digital solutions for accessibility
Promoting inclusion and accessibility in the workplace, in city life and for recreational facilities is one of the key focus areas for urban planners and local authorities alike. Berlin is no exception. One of the fundamental requirements for enabling the city's 627,662 disabled residents - according to the Berlin Inclusion Guide for People with Disabilities figure for 2018 - to "participate in society on an equal basis" is the dismantling of physical barriers in public and private spaces. Another key factor is the development of innovative, digital solutions that make life easier for people with disabilities.
Creating a barrier-free world online
Raúl Krauthausen, the co-founder of Sozialhelden (Social Heroes), develops projects to make Germany and the rest of the world accessible to the country's 1.6 million wheelchair users. As a wheelchair user himself, the Berliner knows from personal experience how physical barriers hinder the lives of people using mobility aids as well as families with pushchairs every day. In 2010, this necessity inspired him to launch the project wheelmap.org and the app Wheelmap - a free application with an online street map that allows users to find, enter and rate accessible places using a traffic light rating system. It now covers over a million cafés, libraries, swimming pools and other places around the world. Over 300 new entries are added every day. "As a Berliner, I can now find out where I can eat my pretzel when I'm in Munich without having to first reverse outside the door," said Krauthausen in a press release. Wheelmap also aims to promote accessibility in public spaces and buildings. This is expected to become a mandatory requirement for the construction industry in the near future, much in the same way as fire safety measures that have long been commonplace.
Assistive technologies for digital space
In the digital space, assistive technology standards are already enshrined in law: The international Web Content Accessibility Guidelines WCAG 3.0, for example, obliges public bodies to ensure that their websites also allow users to enter commands using a keyboard and provide an adjustable font size feature. In Europe, public bodies must further ensure barrier-free access and accessibility of their websites, apps and administrative procedures for people with disabilities in accordance with EU Directive 2016/2102. Technological developments also ensure more digital accessibility. Touch controls on smartphones, for example, reduce hindrances for "target groups who have problems using external pointing devices," says Carola Werning, educational consultant at the Berlin Foundation for Barrier-Free Communication! "Accessibility features are built into tablets and smartphones from the start." Other assistive technologies such as voice and eye control as well as automated captioning are provided as "waste products" of mainstream technologies, which in addition to general user-friendliness offer added value for people with disabilities. There are also other operating aids and apps that make everyday life easier for the target groups. An overview of the features available can be found on the Database Barrier-Free Communication! The Berlin foundation also organises free online and offline introduction courses four times a year, which invite users with disabilities to discover and try out technologies with special features.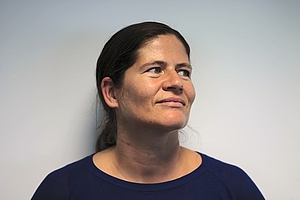 Educational consultant Carola Werning © Stiftung barrierefrei kommunizieren
Goal: Super hearing
There are numerous technological developments in Berlin that strive to achieve this goal. The company Audatic, for example, has developed a learning software solution that filters out background noise, which can improve the quality of life of 466 million people with hearing impairments, according to the WHO. "We believe that everyone should be able to control how they want to hear the world," says Pauline O'Callaghan, founder and CEO of the start-up Hearable Labs. Or more specifically: what people want to hear - and what they don't. Noise-cancelling devices have yet to deliver on their promise. This is due to technical challenges: Hearing aids have to be small, have a long battery life, communicate wirelessly, sound good and work in real time. "It's like plugging an entire recording studio into your ear," the Irish deep tech expert told REALIZM, explaining the technology she has been working since 2008. O'Callaghan's decision to move to Berlin due to its reputation as a thriving start-up hub has paid off. In addition to being awarded funding through the Berlin-Brandenburg Business Plan Competition, Hearable Labs was also chosen for a research and development project with Fraunhofer IZM Institute. Together they are working on the miniaturisation of hearing aid electronics. "This will make them a better fit for women or people with smaller ears . . . We are discovering many new, exciting technologies that can be applied to hearing aids," says the founder, who has come one step closer to her goal of "super hearing". Audatic has won several awards for its solution, including the Digital Health Award Berlin.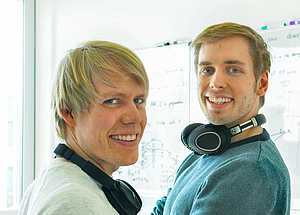 Peter Udo Diehl, CEO & Elias Sprengel, CTO Audatic © Audatic
James Bond for everyone
Seneit Debese, CEO and founder of Greta & Starks, is an entrepreneur with an ambitious vision: 100 per cent barrier-free cinema throughout Europe. Since 2013, she has been working to enable visually or hearing-impaired viewers to enjoy films in the cinema or in their own living room freely and independently. This effort is assisted by producers, TV stations and cinema film distributors who create captions (audio descriptions) or subtitles, which are made available free of charge via the GRETA app. Over 800 films and series are now available. After several postponements, one of the company highlights for 2021 is a collaboration between Universal Pictures and Greta & Starks to make the 25th James Bond "No Time to Die" accessible to everyone in the cinema for the first time through audio description and subtitles. The GRETA app also offers the best audio coverage for German films. This is not least due to an amendment to the German Film Funding Act, which obliges film companies to make their productions accessible to all. "We still haven't reached 100 per cent," Debese admits. "We currently offer our solution in Germany, Austria, Switzerland, France and Israel." The market launch for other major European countries is scheduled for 2021. The product is being optimised for this purpose: A new backend will enable distributors and producers to distribute and manage their content worldwide as well as maintain control of their rights. "We have also completed a security audit according to MPAA standards in order to manage the content of international studios," adds Debese. "The technology will also allow us to offer multilingual versions of films from autumn 2020." The launch of audio film represents a new product that combines film sound with audio description.
Live with EVE
Subtitles in films and TV series are one thing, but what about videos on the Internet? What about streaming, live events, and social media? The Berlin-based duo Tom Papadhimas and Thomas Niedermayr has come up with an answer in the form of EVE (German abbreviation for input, processing, input). EVE is an AI-based tool that converts speech into text in real time. This is not only useful for people with hearing impairments, but also for foreign language students, etc. To enable the software to generate live subtitles, all you have to do is go to a website and press record. EVE then analyses the speech word for word, compares what it has recognised with a database of sound signals and searches for similar entries. The conversion to text is displayed on the website and can be projected onto a stage at the same time. EVE also logs the text and enables you to search for terms. The transcript is available online without delay. EVE has developed enormously since it was first presented at the Microsoft Explained 2019 digital conference in Berlin, as the cloud service with artificial intelligence is constantly learning with every correction. "For example, if the word 'iced tea' is corrected five times in IoT (Internet of Things), EVE will remember it. The next time she will use the right word," say the developers. She currently recognises an average of 90 per cent of German speech error-free; in English her accuracy rises to 95 per cent. "In the next few weeks EVE will learn many new languages ​​. . . , and a translation function is also planned." The team has big plans: "In future, we would like to support the HoloLens. Imagine you're in a football stadium and can see live captions of the commentary by simply putting on a HoloLens."
Remote monitoring more relevant than ever
Digital solutions can also assist in the care of the physically impaired. Pikkerton's Grannyguard assistance system, which sounds an alarm in the event of a fall, and Lindera's AI-based fall detection software are great examples of this. Advosense, another emerging e-health start-up, won the Deep Tech Award 2020 in the social tech category. Founded by the self-proclaimed "revolutionaries of geriatric care" Erin Webb and Martina Viduka, the company develops incontinence products for the care sector. Embedded sensors report in real time when a patient's clothes need to be changed. This information is lacking in 70 per cent of all German care facilities. Since March 2020, the two female co-founders who have made Berlin their home have been part of the city's healthcare incubator Vision Health Pioneers. Thanks to its support, Advosense products will soon be tested in hospitals and care facilities. "Doctors are currently not entering patient rooms as often as before to prevent the spread of coronavirus," says co-founder Viduka, recognising the urgency of the problem. "That is why remote monitoring of the patient's condition - and ensuring that they are not soaked in urine - is more important than ever."
Digital technologies do just that. They have the potential to contribute to an equal and barrier-free society. Seneit Debese of Greta & Starks sums up the commitment of all the entrepreneurs: "We believe that inclusion is not a burden, but an enormous enrichment. Both financially through the acquisition of new target groups and socially through mutual interaction, which benefits us all."
With the "Deep Dive" series Projekt Zukunft regularly gives an insight into current technologies in the digital, media and creative industries and provides information about actors, trends and applications from Berlin.